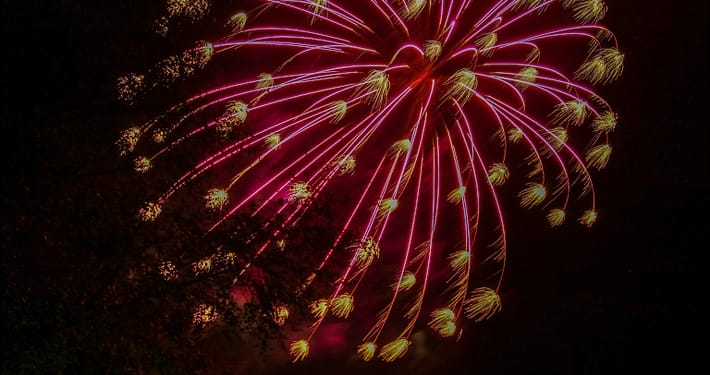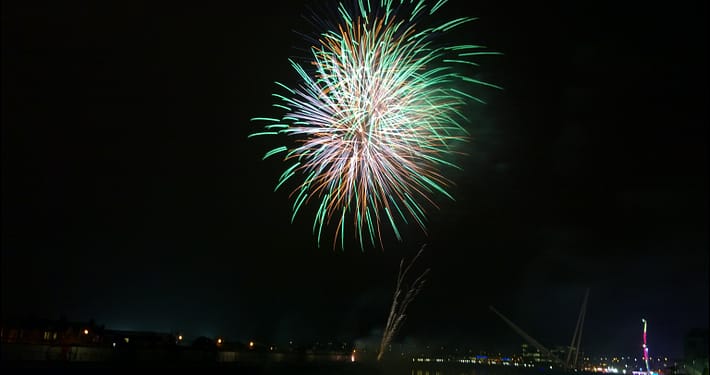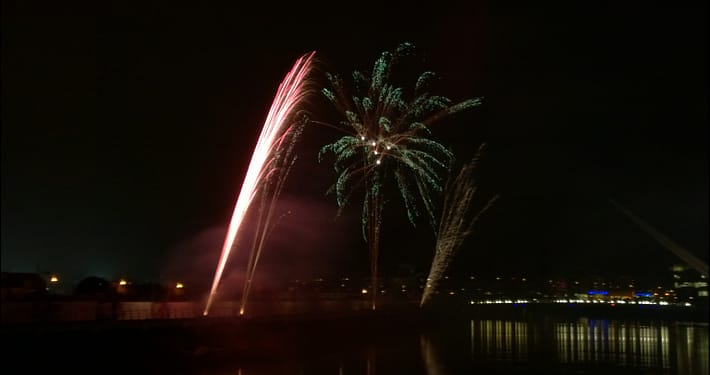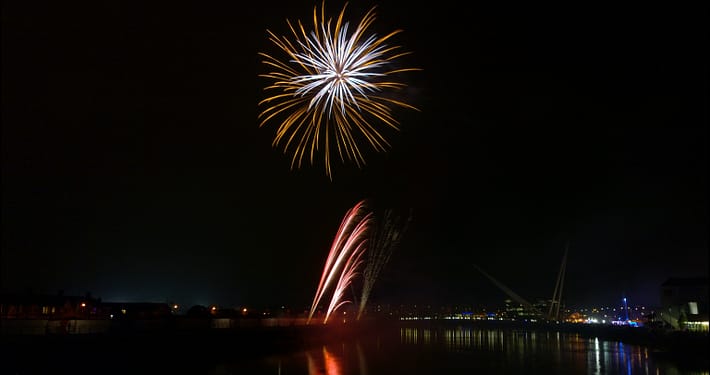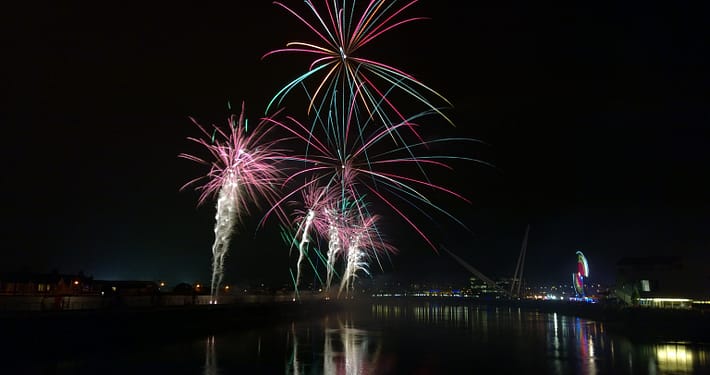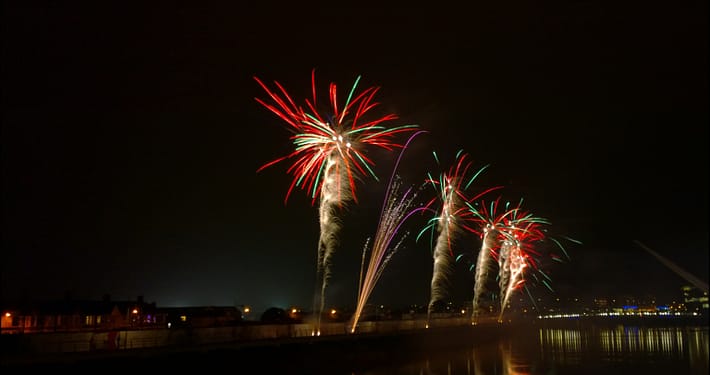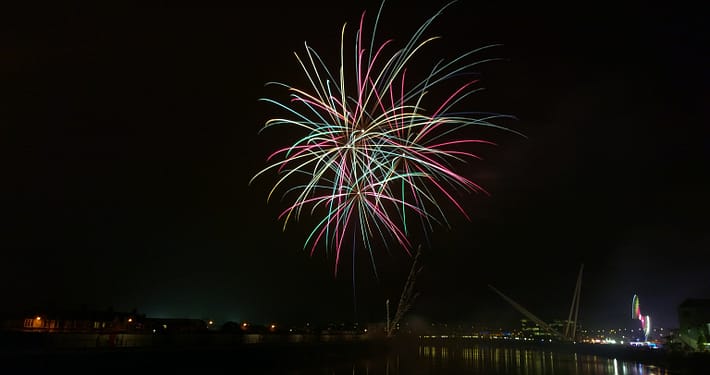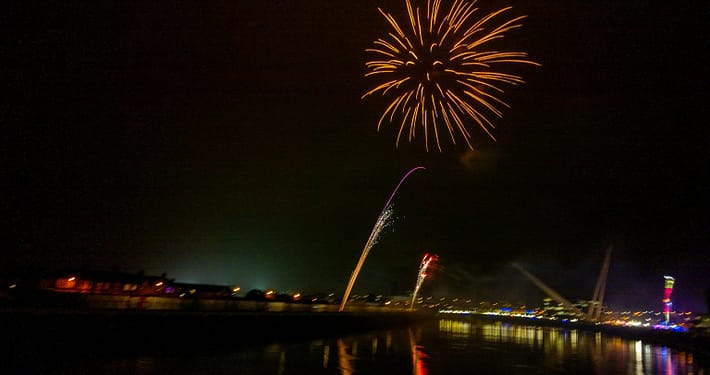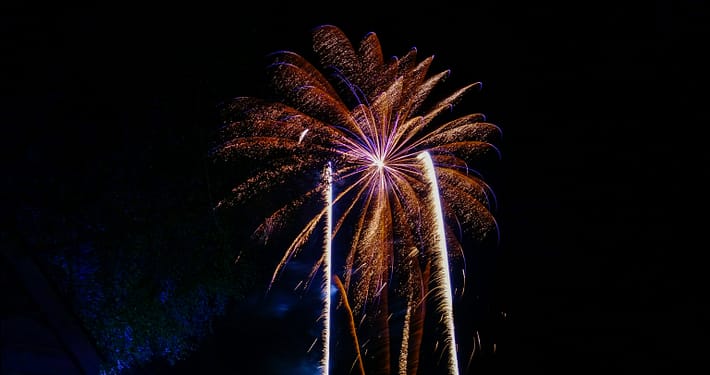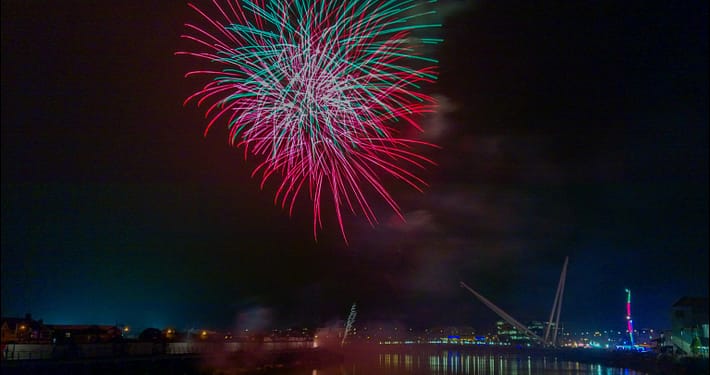 Before we go on, let me just be clear about one thing, we can't say fireworks. The mere mention of the word has Poppy shaking life a very anxious leaf. We have to spell it out.
So, it's F-I-R-E-W-O-R-K-S.
O-K?
Poppy is utterly terrified by them.
"Police arrested two kids yesterday. One was drinking battery acid and the other was eating fireworks. They charged one and let the other one off"

Caerphilly legend Tommy Cooper
When we hear the familiar cracks and bangs, we build Poppy a little den which she retreats to in order to alleviate her stress levels. She also likes to hide under our daughter's bed, or if I'm studying at the computer, she'll often tuck herself in under the desk. Tbh, I kinda like this as her shaking gives my feet a very relaxing massage. We try not to make a fuss of her and try to carry on with things as if nothing is happening, but it's tough seeing her suffer.
I used to love f-i-r-e-w-o-r-k-s as a child. The thrill of the initial explosion was matched by the expectation, or uncertainty of what was to follow. It was usually a flash of light and a loud bang. On occasion nothing happened which was a bit of a damp squib and now and then, a finger or an eye was lost. Much to the delight of the seemingly unsuspecting crowd. All of whom managed to ohhh, ahhh and eeek (great use of onomatopoeia) in perfect unison year upon year.
As an adult, I'm less enthused…
They still make superb long exposure photography subjects, but it's the noise and frequency I struggle with these days.
"During the war…"

Albert Gladstone Trotter aka Uncle Albert. Only Fools and Horses
When I was a lad, we generally only had f-i-r-e-w-o-r-k-s on New Year's Eve and the 5th November. The latter was, and still is used to celebrate burning the effigy of Guy Fawkes. Oh what fun it was too…remembering the occasion when Mr. Fawkes tried to prank the Palaces of Westminster. Unfortunately, well for Guy anyway, doing the Jacobean equivalent of putting a lit rocket tipped with 36 barrels of gunpowder through the letter box of the houses of power was frowned upon…especially when King James I was one of the intended targets 😬
Fast forward nearly 400 years…
England have made it through the group stage and are facing old adversaries Argentina in the last 16 of the 1998 world cup in Saint-Etienne, France. David Beckham gets a red card early in the second half for tripping Diego Simeone. England went on to lose on penalties (quelle surprise said France and the rest of the world). Then followed a hate campaign orchestrated by the British media which resulted in effigies of Beckham being burned to the delight of the front pages.
Skip forward another 22 years and Beckham is no longer being celebrated as Guy Fawkes still is.
That seems a tad unfair and inconsistent.
It can't have been easy seeing the burning effigies of himself on the front pages of the same papers that had helped to make him a global icon. Beckham has since said that had social media been as popular back then as it is now, he would have struggled with the mental health aspects of being such an easily accessible target for online abuse.
I'm sure Mr. Fawkes is ever so grateful for that. Fuck knows what Twitter would've been like back then. Perhaps he would've just been cancelled instead of executed?
"Guy Fawkes was the last man to enter Parliament with honest intentions"

Prof. James Sharpe
Going off tangent, here…
Right, fireworks…sorry Pops, I mean f-i-r-e-w-o-r-k-s…
When I consider the impact f-i-r-e-w-o-r-k-s have on pets and wildlife, I just think what's the fucking point? This is before taking into account young children who might be terrified from sensory overload, as well as people suffering with conditions in which their symptoms may be exacerbated by the noise.  I realise I'm sounding like a miserable old git here, but f-i-r-e-w-o-r-k-s are just too fucking LOUD and associated with any occasion these days.
We've gone from the annual burning of the Guy Fawkes effigy and associated f-i-r-e-w-o-r-k-s celebration to having f-i-r-e-w-o-r-k-s set off to let everyone in a 10 km radius know that Britney from up the road is pregnant (again), or is getting engaged (again), or is single again. OK, so that's a sexist analogy and I apologise. My point is that just about every occasion these days can be marked with f-i-r-e-w-o-r-k-s…which is quite surprising considering the restrictions in place regulating their sale.
Gone are the civilised days when people would take out an ad in the local paper to let everyone else know they've had a satisfying dump. We now get several hours of relentless noise to announce the good news and the whiff of cordite in the air as a fragrant encore.
Time for a little compromise?
I appreciate many people enjoy f-i-r-e-w-o-r-k-s and if it wasn't for the obvious suffering they cause Poppy, I'd probably appreciate them more myself. However, Poppy isn't the only pet suffering as a result. Marmite retreats inside during displays and although he doesn't get as visibly distressed as Poppy, he is still affected. The impact they have on both domesticated and wild animals is well documented.
There are several possible solutions that would improve the negative effects, whilst still offering a spectacular visual treat. F-i-r-e-w-o-r-k-s can be practically silent which is a great alternative, but if there were sensible limits with regards to the permitted loudness of f-i-r-e-w-o-r-k-s sold privately, that would lessen the trauma experienced by pets and wildlife.
So, in conclusion, fireworks, f-i-r-e-w-o-r-k-s, Guy Fawkes, David Beckham, Uncle Albert and Britney from up the road.
Standard 👍