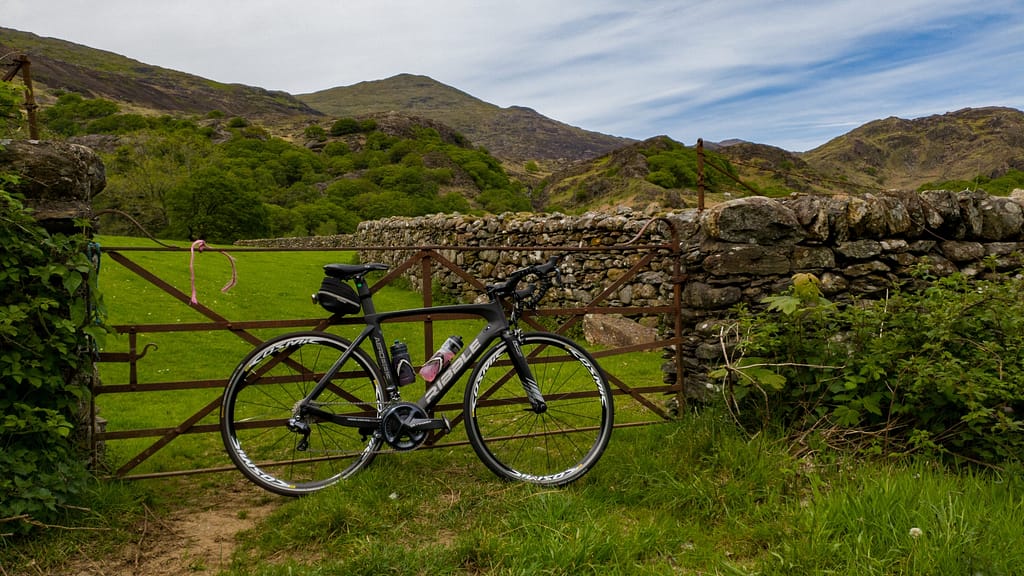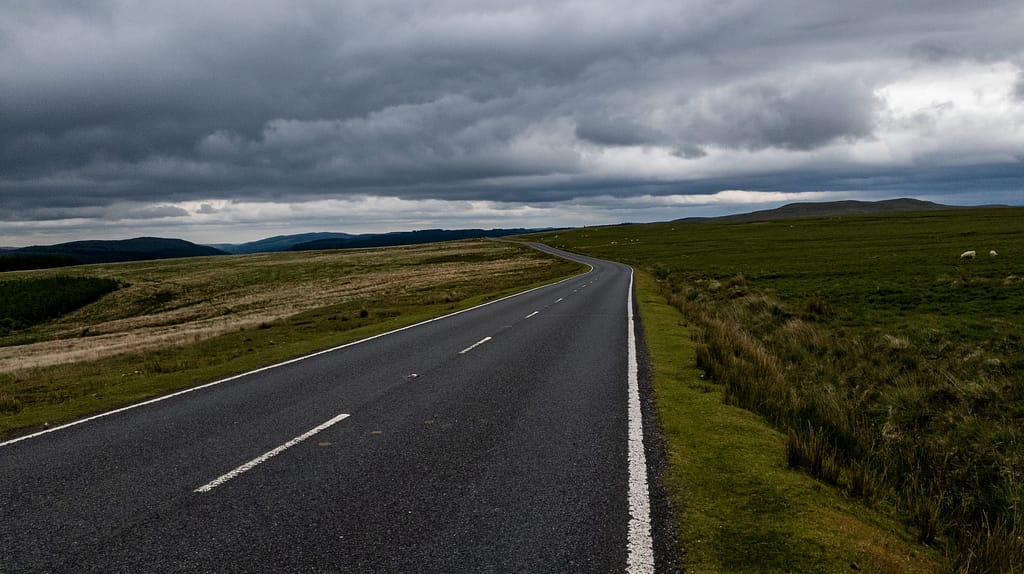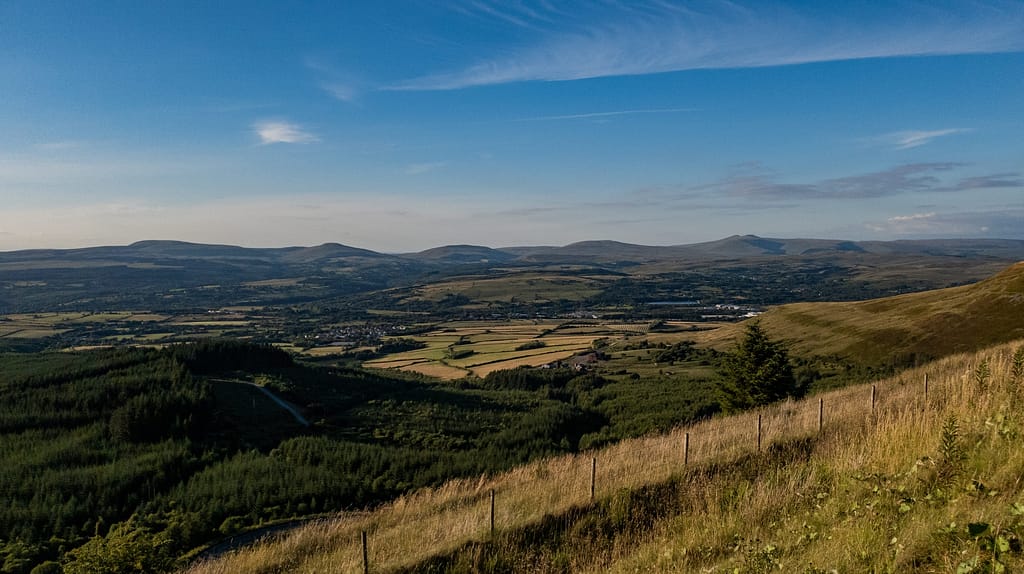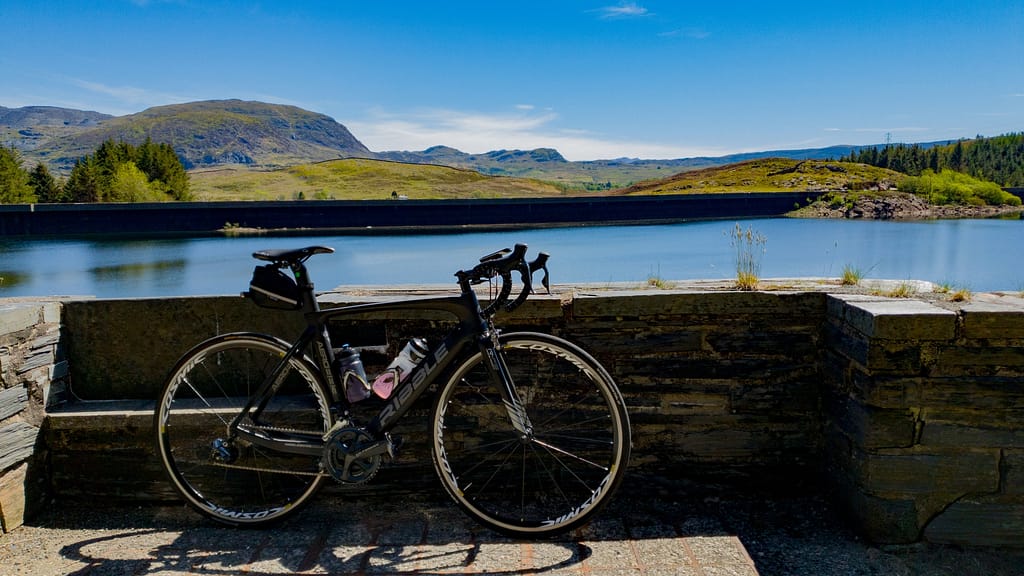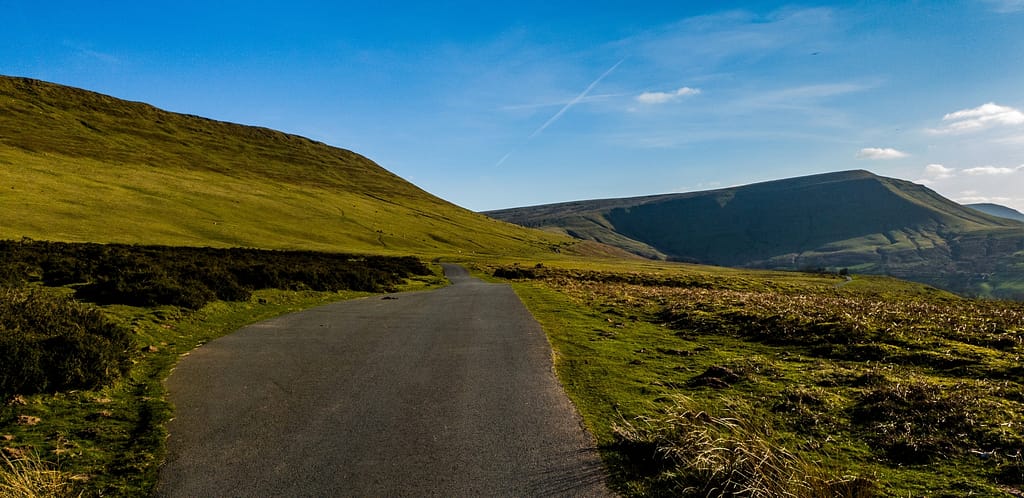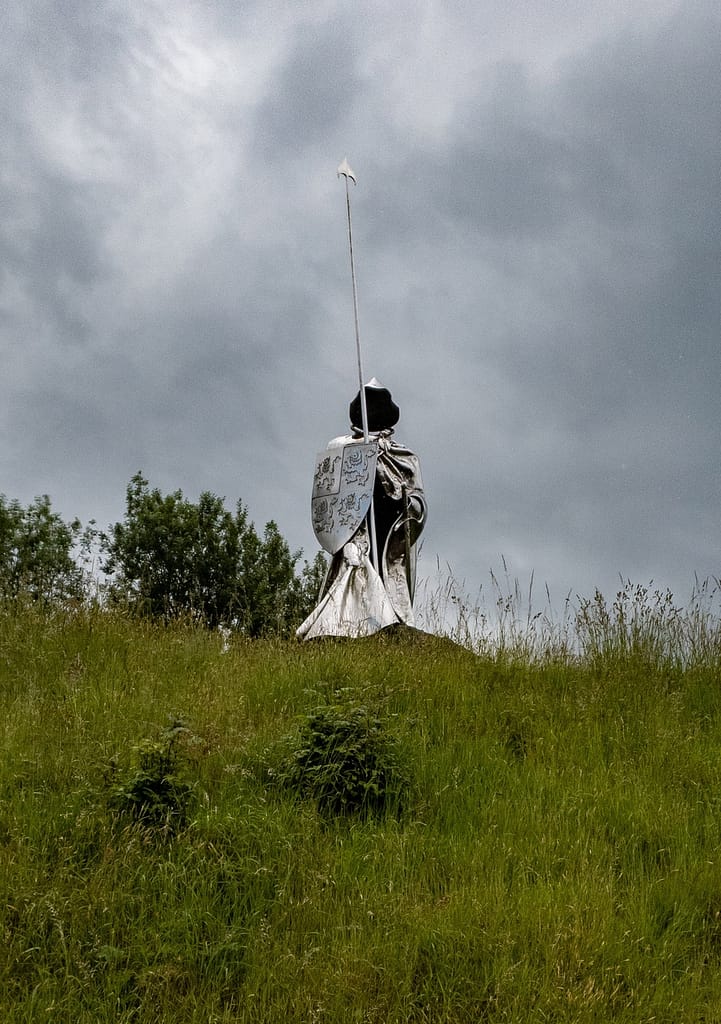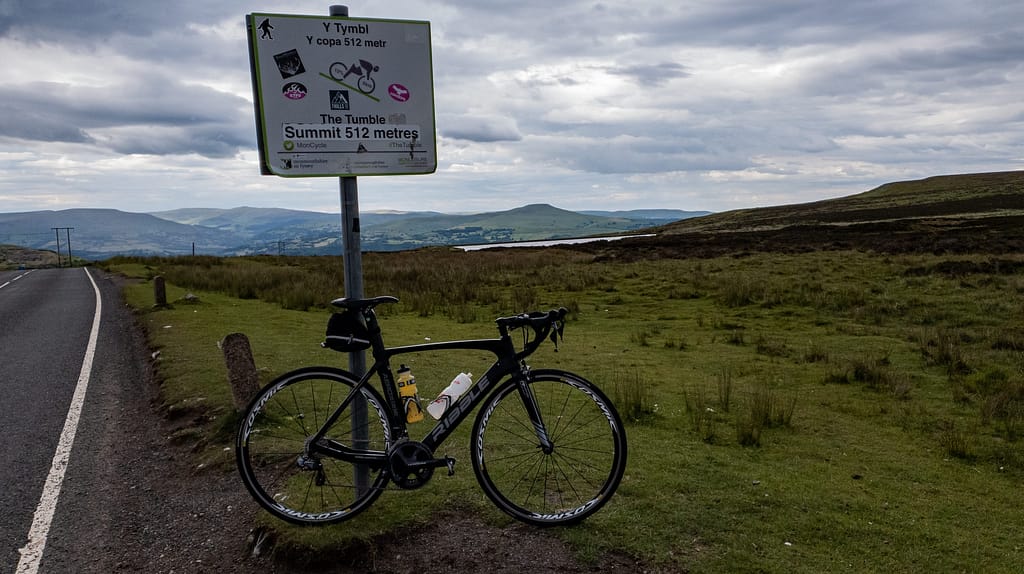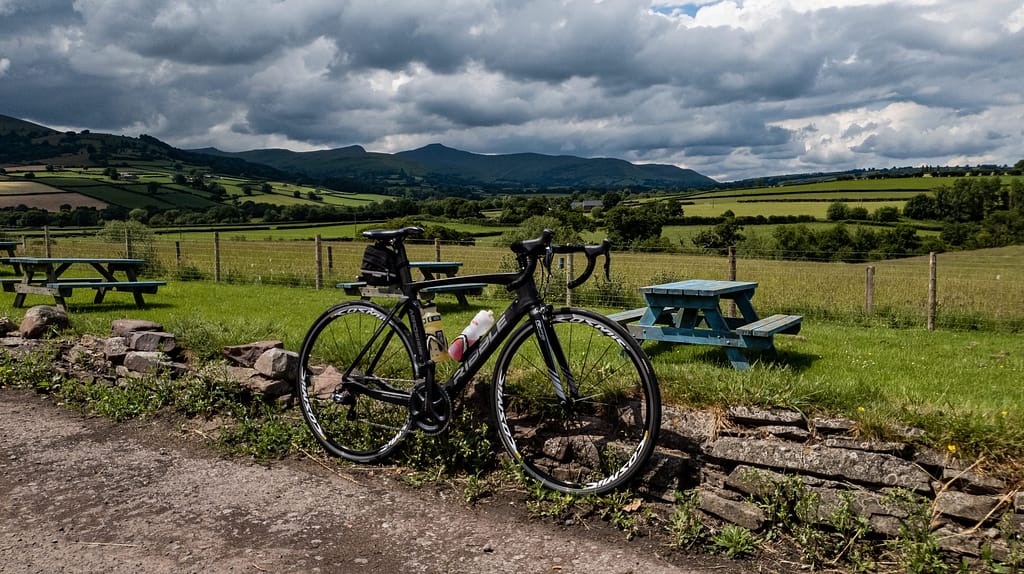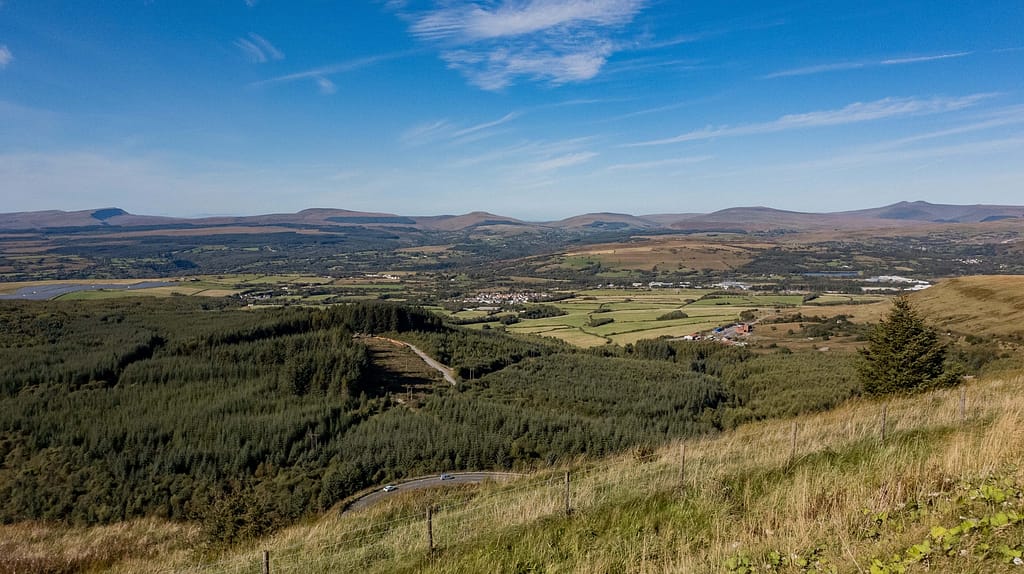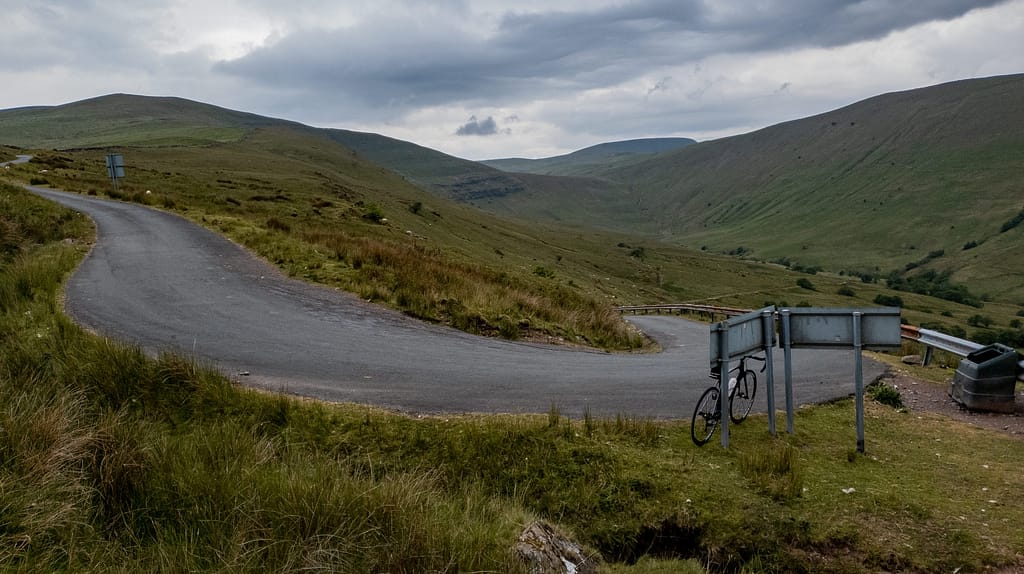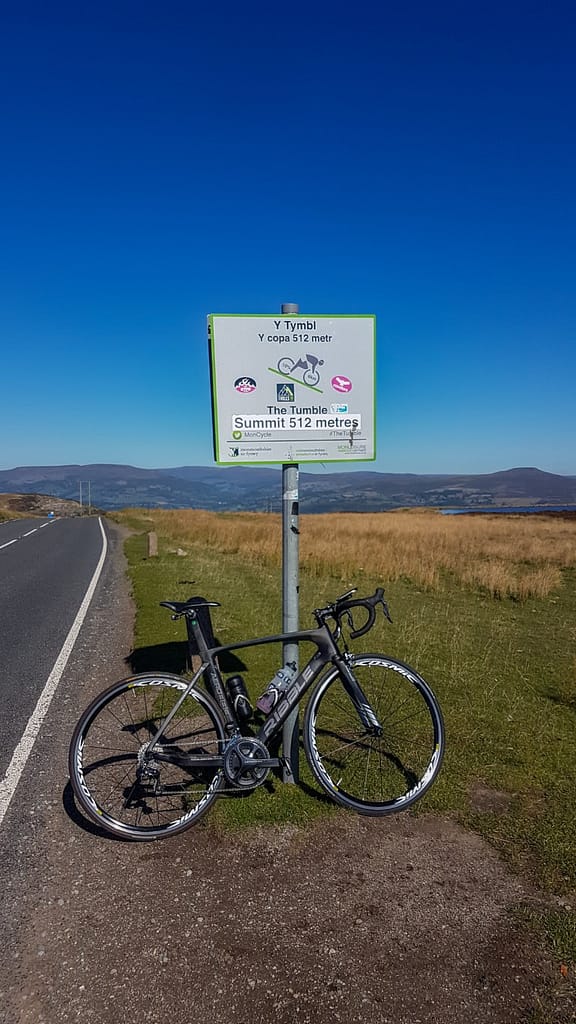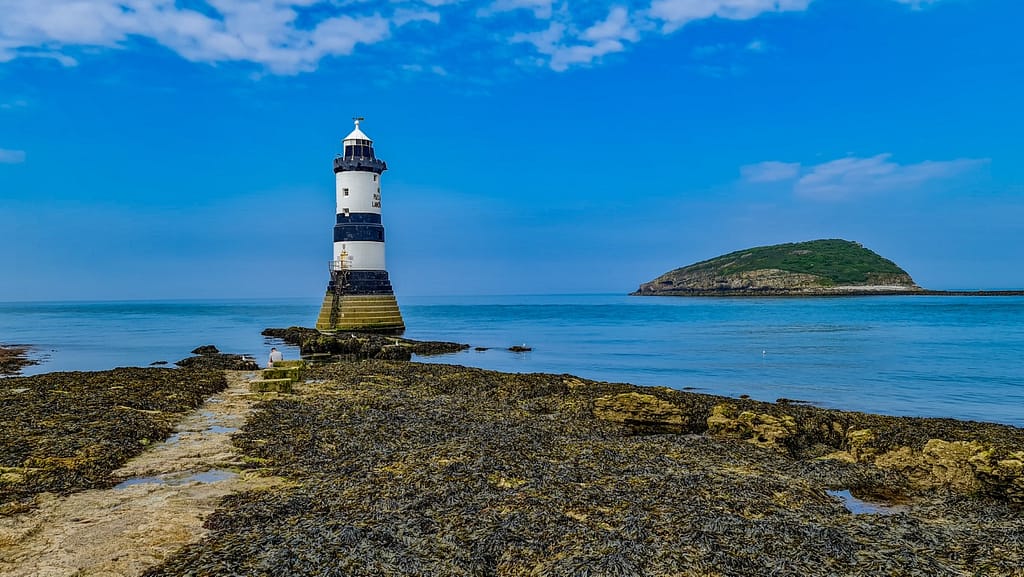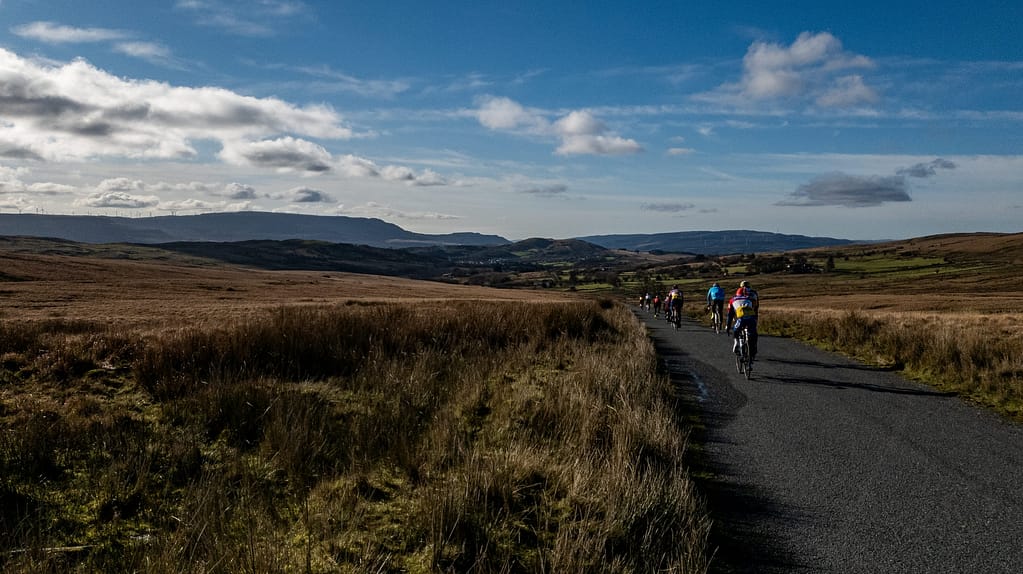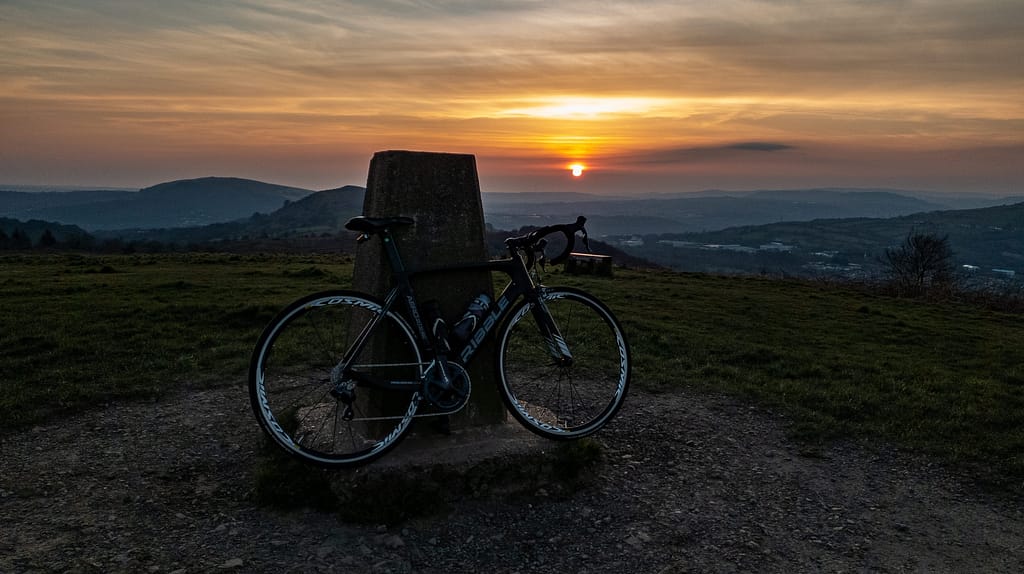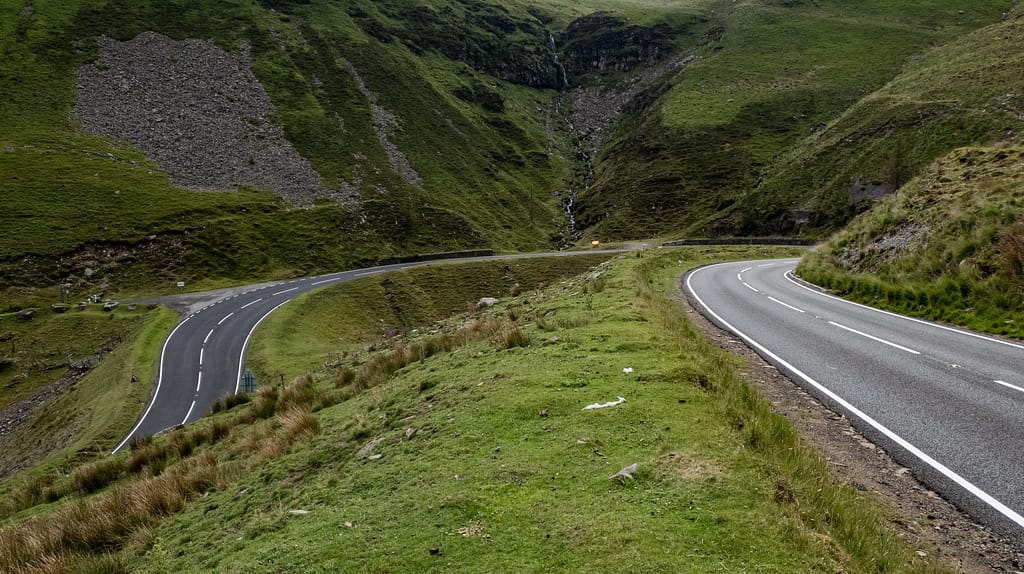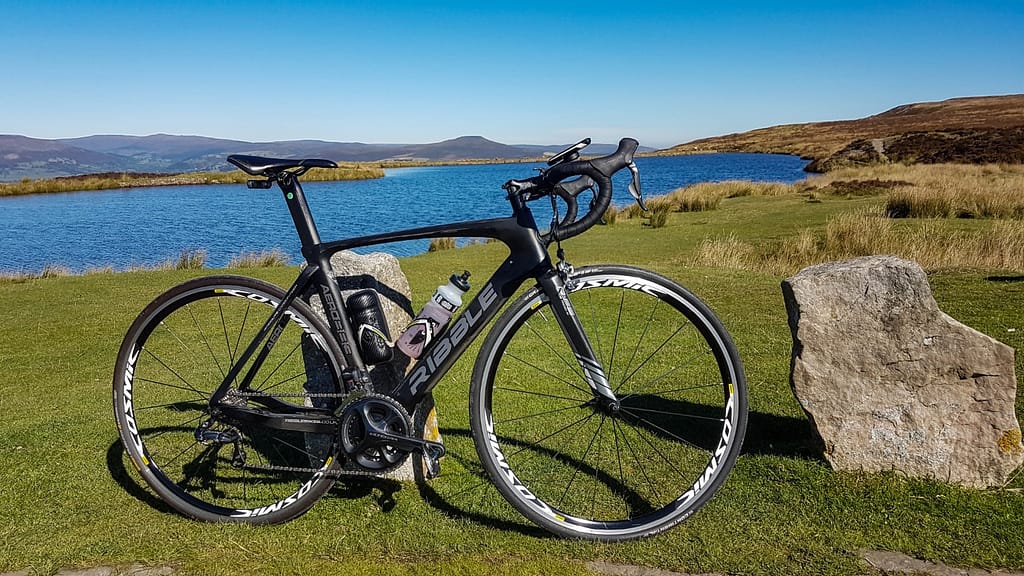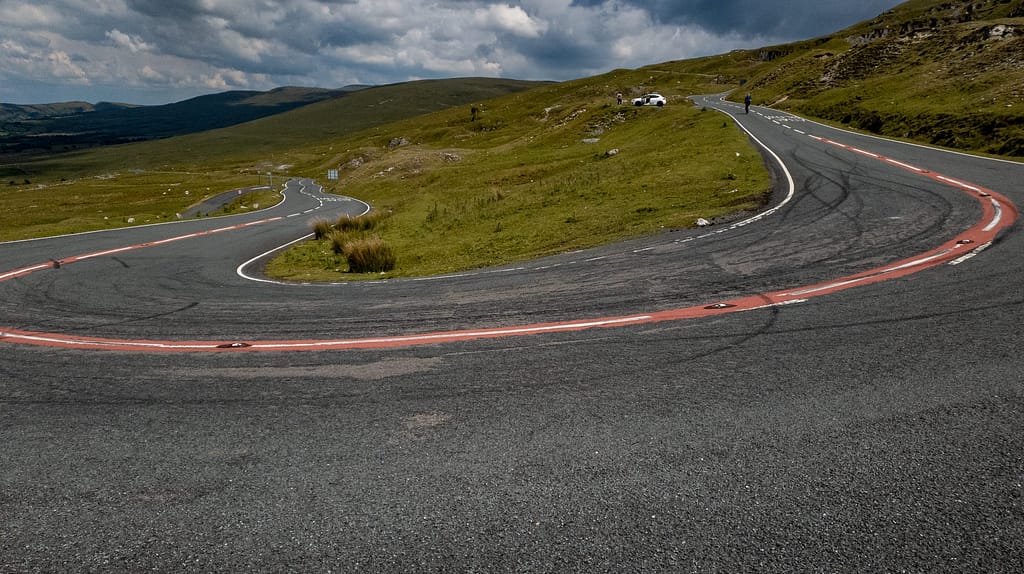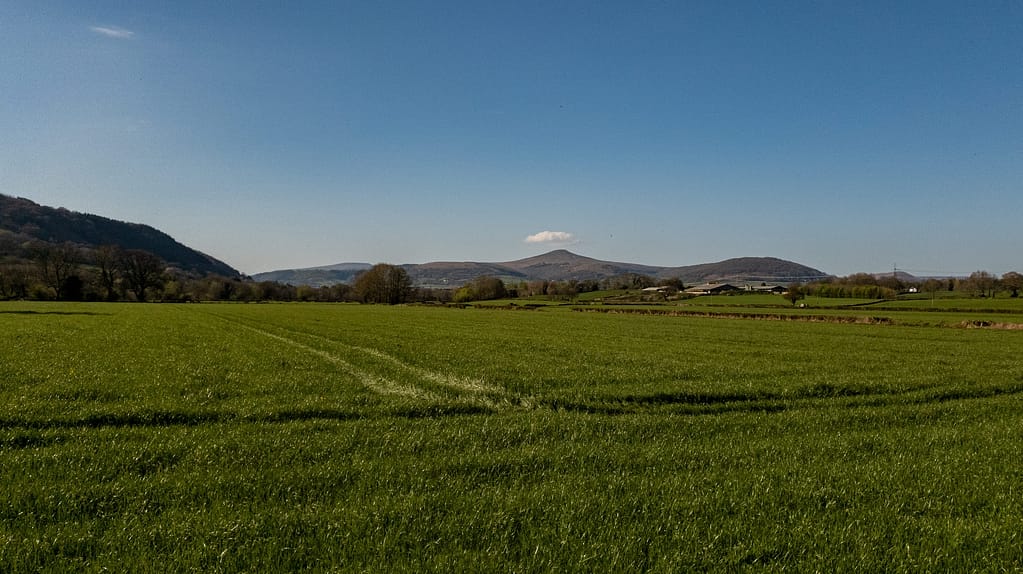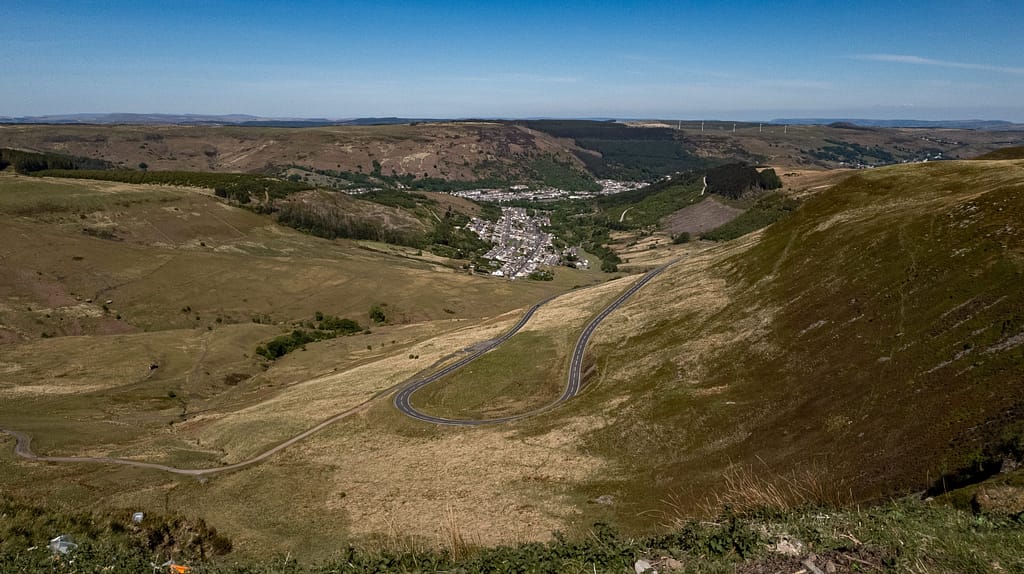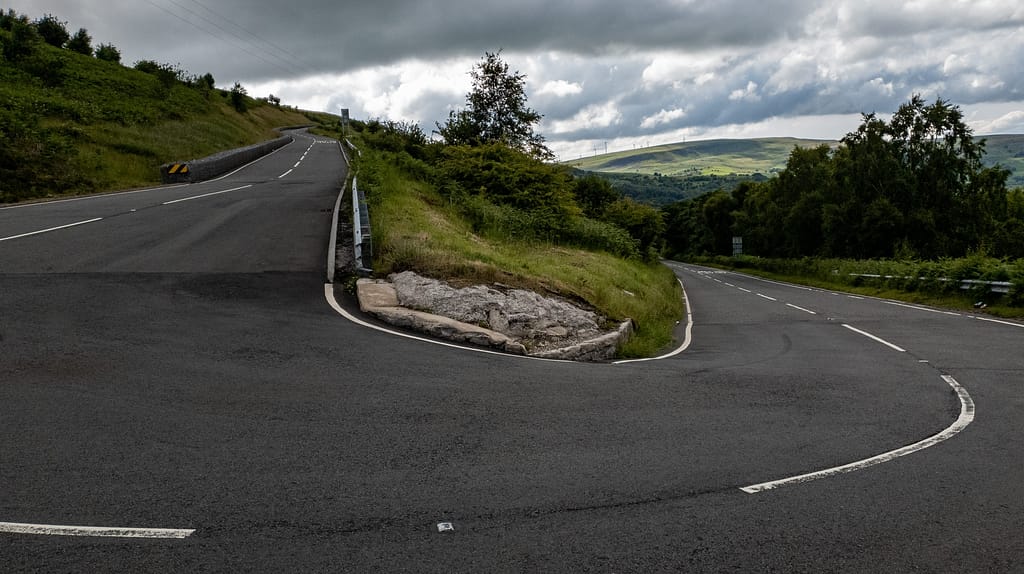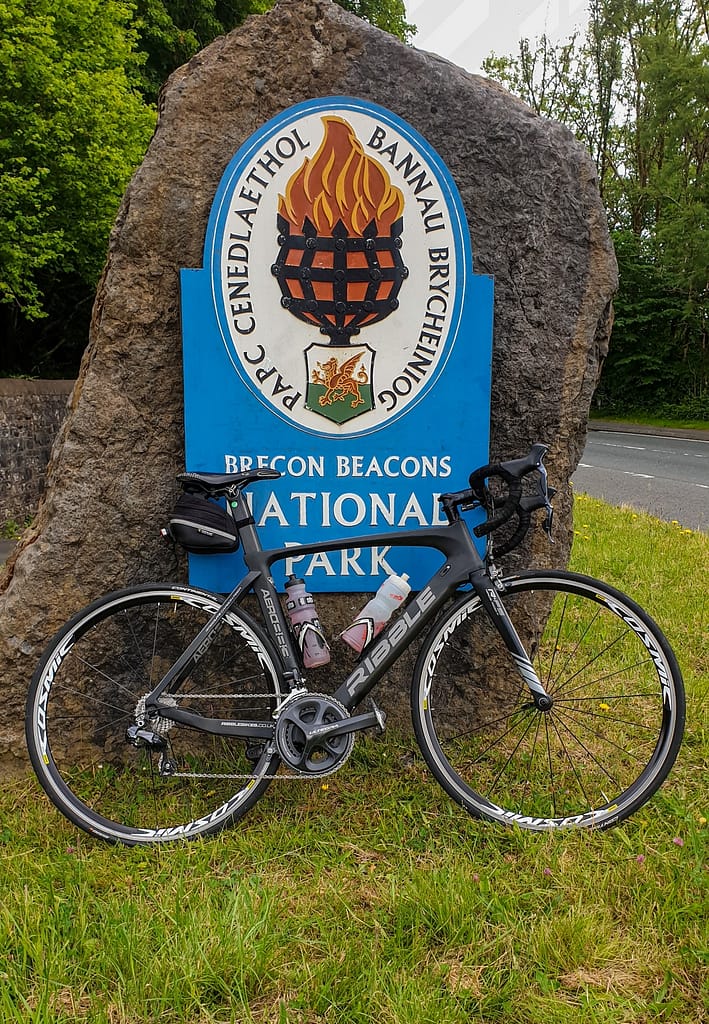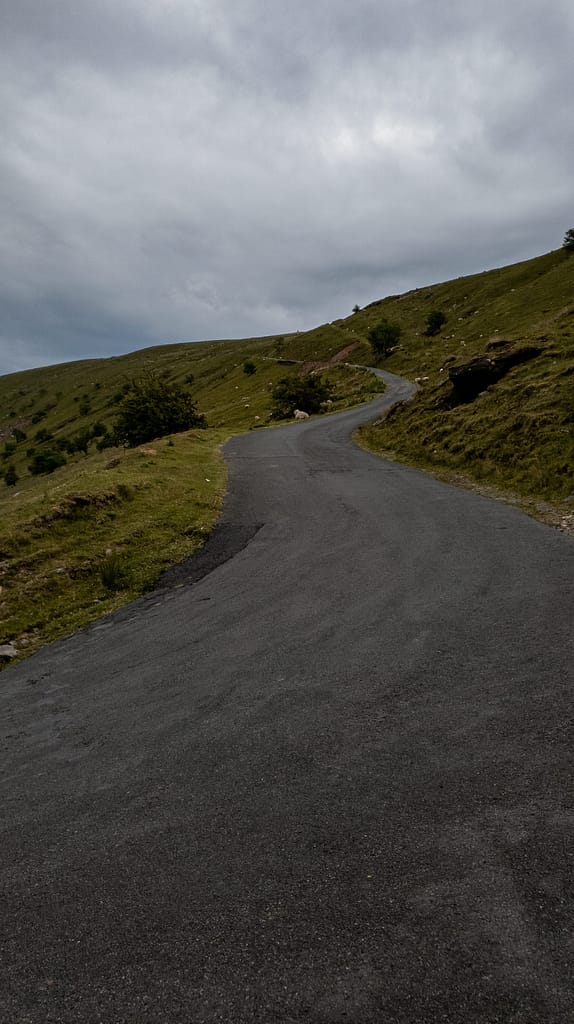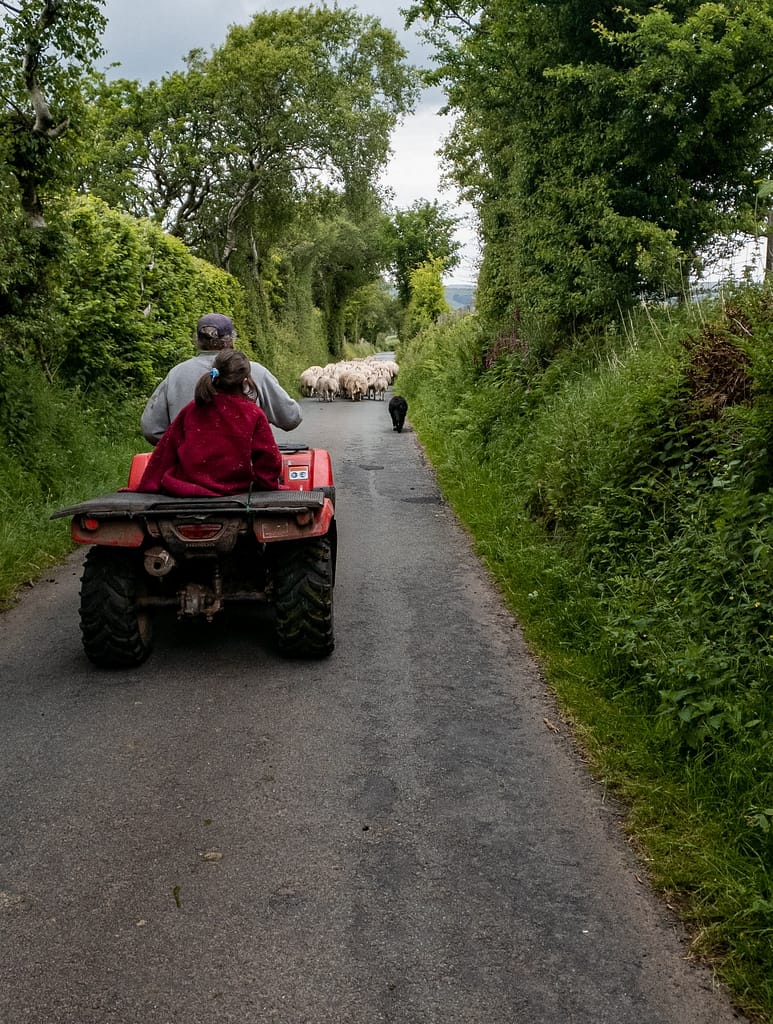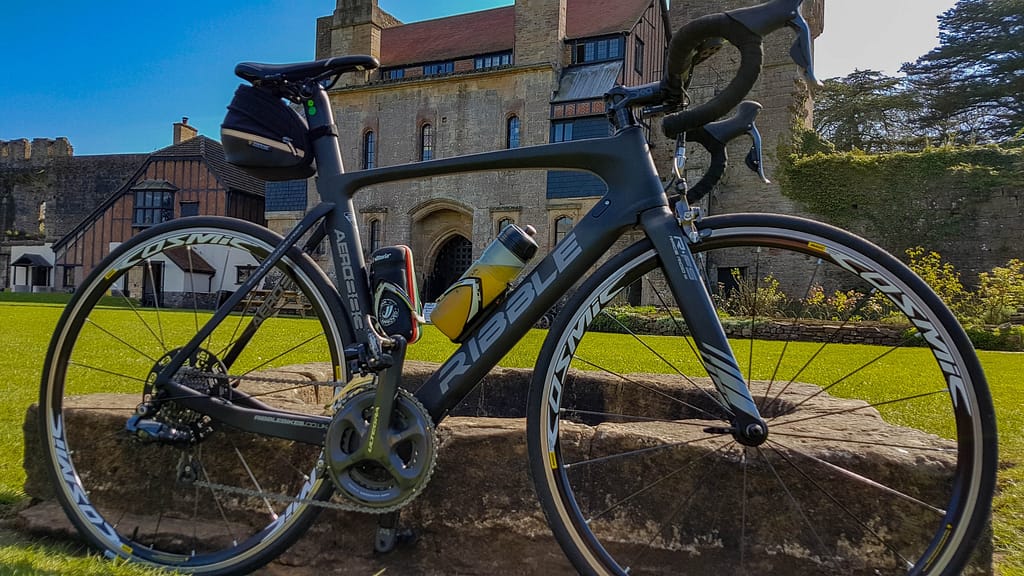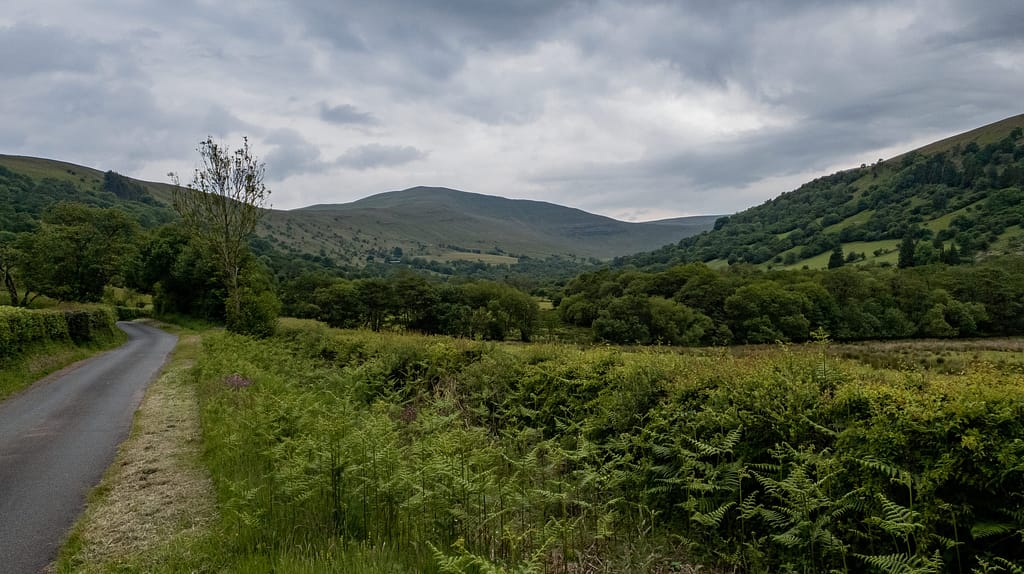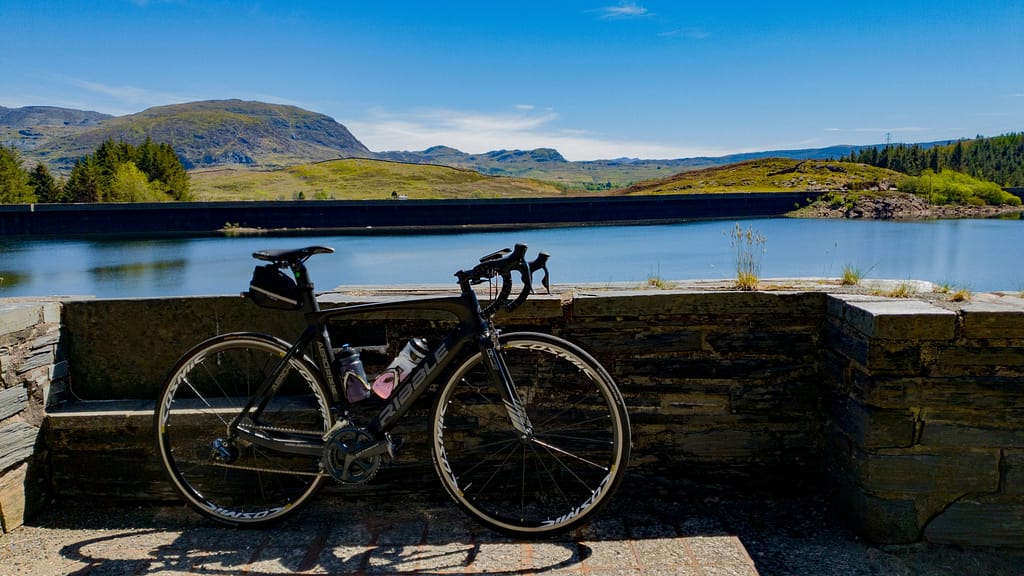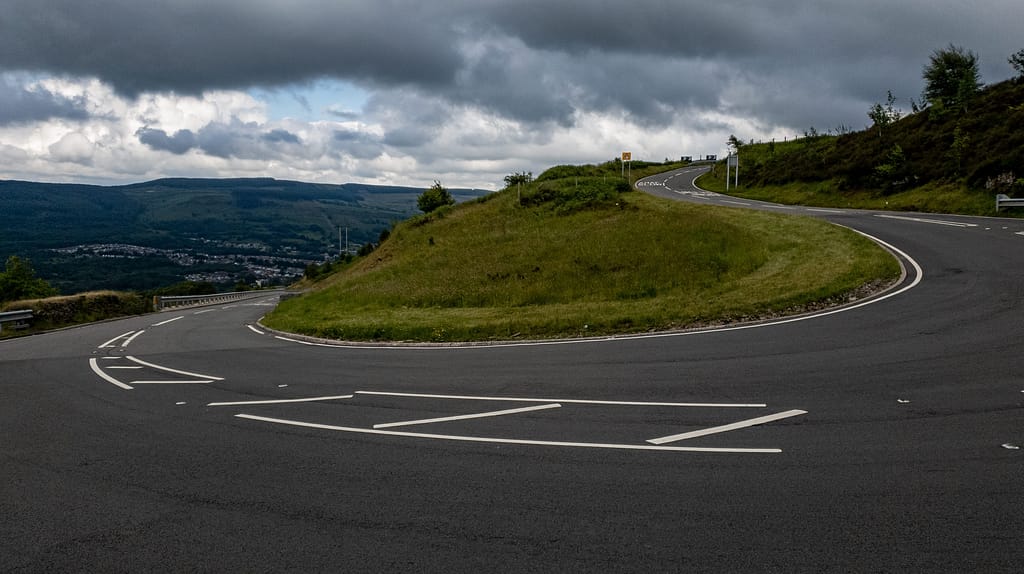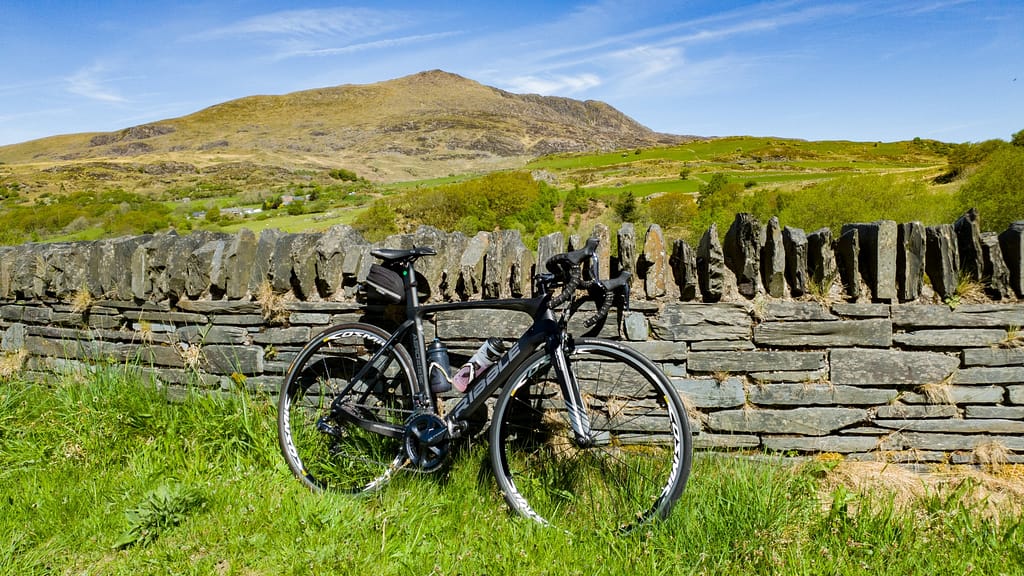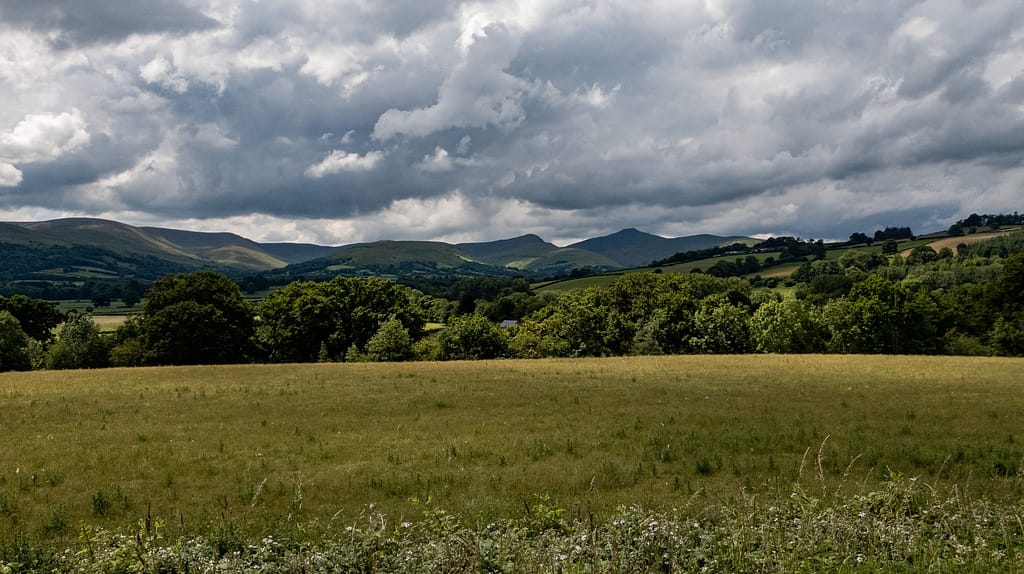 If you've made it this far, my appreciation of the landscape, nature and bike rides in Wales should be as clear as the night sky was when Comet NEOWISE slow-danced past Rhigos Mountain in July.
Wales is blessed with having some amazing outside spaces and has three national parks covering over 4,000 sq. km. In fact, the Brecon Beacons, Snowdonia and Pembrokeshire Coast National Parks account for 20% of Wales, and much of the area in between them is beautiful countryside and rolling hills. The national parks and the 1,400 km of footpath that make up the Wales Coastal Path, means that there is some truly stunning things to see and do in Wales.
What better way to take in those sights and the seemingly never-ending countryside than on two wheels? My choice of two wheels is a road bike, but all cyclists are catered for in Wales.
Above is a selection of photographs taken on bike rides around Wales. Featuring the Brecon Beacons, Eryri, The Tumble, Gospel Pass and the South Wales valleys.
Below are some links to videos taken on bike rides:
Cwmcarn Dreams feat. Fleetwood Mac. I recorded this descending Cwmcarn Forest Drive from Medart when I was lucky enough to have the entire drive to myself. Some of my cornering wasn't the best, but I was wearing shades and even though it was quite dark, it was still too bright for me…plus the shades protect the eyes from bastard flies! Basically, I couldn't see that well and there was quite a bit of debris on the road in some sections, so it's amazing the descent didn't require another detour to the RGH 😬 If you appreciate nature, or just want to escape from the noise and reduced air quality of built-up areas, Cwmcarn Forest is one of the best places to visit in south-east Wales. Given its closeness to the M4 corridor, 2 cities and the demand for constant urbanisation, the forest really is the perfect tonic for modern life. Unfortunately, at the time of recording the video, Cwmcarn Forest was in a transitional phase due to the felling of over 150,000 larch trees infected with Phytophthora Ramorum. Whilst the views from Cwmcarn will always be mesmerising, it will take several decades for the forest to recover its former beauty. Don't let that put you off visiting though, as the diverse wildlife on display is worth the trip alone. Add in walking, hiking, road and off-road biking, stargazing as well as the re-opened 11 km scenic drive with several car parks on route, playing areas for children, picnic and bbq areas, viewing points and if you still don't want to go, well you're a fucking twat and don't bother reading on! Then there's the beautiful lake; rich with wildlife and a section for dogs to have a play. The lake was Poppy's favourite place in the world and I would imagine it is the favourite place for many other dogs who have visited. The way the sun sets behind the lake at different times of the year is reminiscent of the summer and winter solstice effects observed using the Manhattan street grid plan at places such as 42nd street. Cwmcarn tops this by having jaw-dropping sunsets most nights, all year without having thousands of technology-obsessed arseholes close by. If, When you go and if you take the car, pay to go round twice as the people who run Cwmcarn have kept it as accessible as possible to cyclists and walkers in the 6 years the scenic drive was closed for the larch felling. Anna and the guys are true heroes to nature and mindfulness. It is worth every penny, and more for the reward you'll get from nature, but please make sure you use the bins provided or take your litter home with you.
Rhigos Mountain Road Descent (Easter Sunday Alpine Special). Rhigos mountain road was my favourite climb and only about 50 km from my doorstep, so it was good for training rides. 50 km of close passes and arguing with (mostly) gammons about their shit driving and lack of visual aids, but the reward is climbing and descending the 'Welsh Alps'. The close passes continued on the climb itself, but the views from both the north and south side are simply stunning. I cycled up many mountain roads in Wales including Gospel Pass, The Tumble, Llangynidir, Crimea Pass, Black Mountain, Llanberis Pass, The British, Bryn Du, Devil's Elbow, Bwlch, Maerdy, Pen-y-Pass, Bwlch y Groes, Caerphilly 'Mountain' and many more. Rhigos Mountain Road which ascends Mynydd Beili-Glas in the South Wales valleys was the best and as mountain climbs go, it was pretty easy too. You can even see the Orion-Cygnus arm of the Milky Way on a clear night thanks to the lack of light pollution. In the video, look out for a couple of protective bird parents protecting their nest from a buzzard (I think) 😍
Hub cap hero. The term 'hero' is banded around way too easily these days. Somehow this cunt* was branded one after surviving a mild case of COVID-19…even though the actions of that particular cunt and other Tory cunts like him have cost the lives of many others less fortunate. Anyway, had this car's hub cap come off at speed on a motorway, it could have ended in tragedy. I'm no fucking hero, but it's shocking how many loose hub caps there are attached to vehicles on the road. It's not quite as bad as using a phone whilst driving though. You've got to be a special kind of cunt** to do that, and again it's shocking just how many of those kind of cunts are out there. Put it this way, there's more cunts in driving seats than there are loose hub caps!
Lorry Heroes. 👍👏🤝😍 I made no secret about my displeasure at sharing the roads with cunts in cars, but despite submitting well over 100 videos to Operation Snap, the closest I got to a prosecution was being threatened with prosecution for public order offence for calling cunts in cars, cunts (as well as several other apt insults). If you haven't experienced being close-passed by a metal box on wheels that could weigh several tonnes driven by a cunt, you may not be aware of just how dangerous they can be to vulnerable road users. Anyway, in the video, the driver of the Home Hardware lorry became an instant hero for me by stopping in slow moving traffic to create a gap which allowed the driver of the Hanson lorry to pass me safely. At the time, I assumed his gesture was aimed at the other driver as a professional courtesy, but I felt compelled to call the company when I got home to ask that they pass on my appreciation. I even Tweeted about it and it turns out the driver is a cyclist himself. That one act of kindness cost less than 23 seconds of his time and he still got to where he needed to be on time. Both these drivers are heroes in my book!
A472 Descent into Newbridge. In memory of my brother, Peter. I went on this ride a few hours after I found out he passed away in February 2021. Cycling and other regular high-intensity physical exercises do not only improve cardiovascular performance, strength and conditioning, but such activities have been proven to play a key role in activating neurobiological pathways associated with increased self-esteem, improved mood and overall health…as well as being beneficial to one's own stress response. Not gonna provide a reference or citation for that, as it really should be common knowledge in 2022.
Mummy and her baby. You're never far away from nature in Wales!
I saw this beautiful buzzard effortlessly hovering from a 'road' between Maesycwmmer and Machen. The inverted commas are to highlight that road is not the best descriptor for the surface. It was without doubt the worst surface I have ever ridden a road bike on. The lack of suspension made controlling my bike a huge effort even at slow speeds, hence my breathlessness in the video. Still, it was worth every second of effort and fucking my then tyres and wheels up 😁
This stunning Red Kite was feeding on dead lamb by the side of the road near Ystradfellte when I passed on my bike. I couldn't resist the opportunity to film her feed, so I jumped off the bike, got down low and was there for around 5 minutes watching her whilst she was watching me. It was fucking epic. This was during a fairly strict COVID-19 lockdown and whilst I was down on the floor filming a car went past and the driver turned around to ask if I was ok (nice touch). When I thanked him for his concern and explained what I was doing in my Essex/Surrey accent, his mood instantly changed and he enquired what I was doing out here. I replied, "Dw i'n dod o Lloegr yn wreiddiol, ond dw i'n byw ger Casnewydd nawr. Beth amdanoch chi?". He drove off. Nice fella. I wasn't as proficient in Welsh back then as I am now and I still can't roll my fucking Rs*** 😉, but I knew those sentences from a couple of Duolingo lessons I was learning at the time. Turned out I was more Welsh than he was…or perhaps he was just slightly intolerant of people based on their accent? 😁
Squirrel! Blink and you'll miss him/her.
I was unable to report this prick to Operation Snap as the registration plate wasn't clear enough. Not that submitting it to the lazy wankers would have made any difference. Operation Snap was set up as the police response to protect vulnerable road users from dangerous and reckless driving. No doubt it was set up with the best intentions, but I've got no idea why they then tasked the running of the entire Welsh operation to what can only be described the most useless British police officer who has ever existed. 3325 Pearce is a bit of a tool. I'm pretty sure I can say that as some tools can be useful. Here's 3325 Pearce taking credit for getting a reckless motorcyclist jailed on a technicality (perverting the course of justice), not the actual original offence. Note that the cyclist who was the victim of a reckless overtake which was caught on camera did not see any justice. I submitted well over 100 videos in the space of just a few months to Operation Snap/GoSafeCymru, and not a single Notice of Intended Prosecution (NIP) was issued by 3325 Pearce and his colleagues…despite the fact that several videos showed I was less than 50 cm from being hit by a vehicle travelling at considerable speed. The reason for this was that I called, well usually shouted 'cunt' at the driver. In fact, officers from Gwent and  South Wales Police forces threatened me with public order offences if I continued to swear at people who drive like cunts…even though no complaints from the public had been made. I contacted the CPS and asked if a victim/witness swearing in response to an offence would be a barrier to prosecution against the driver. They advised it would not. This is why I started to record my phone conversations and I'm so fucking glad I did! I submitted one video to Surrey Police in March 2021 from an incident on Box Hill and they issued an NIP upon review. I shouted 'fucking arsehole' at that driver. Anyway, if the impatient driver who was unable to wait a few seconds for me pass was even remotely competent at lip-reading, or if his vision was adequate enough to drive, he would've been able to see me flipping him off and mouthing the word 'cunt' at him.
Cheating death 1. Thank fuck this driver was paying attention! I was pretty good at bunny-hopping things on the road such as cattle grids (even at speeds in excess of 60 kmh), but there was no way I would've been able to jump that car…or survive the impact from hitting it 😬 If you play the video to the end, you will hear the exact moment when my testicles returned to their normal position.
Cheating death 2. Same day as above, same ride too. Just 25 minutes after cheating death for the first time, I get a flat tyre on Rudry Mountain descent…front tyre too and with patchy black ice on the road. After replacing that inner tube, I had a puncture on the rear tyre within 5 minutes and didn't have any more spares. FML 😁
Operation Snap…
As important as road cycling is for my health and well-being, it has one major drawback: sharing the road with inconsiderate and reckless drivers. I can deal with the crappy weather and mechanical issues, but the seemingly endless close passes and near misses is like flipping a coin with my safety every time I go out on my bike. However, my fate isn't determined by a simple 50/50 coin flip.
Before I go on, it's only fair to point out that this drawback only relates to a minority of drivers on the roads. Most drivers share the road safely and show due care and attention around vulnerable road users. Whilst this is an all too frequent event in society where the few ruin things for the masses, the few appears to be gaining more willing participants. This is largely responsible to the UK media, as well as the toxicity of social media platforms.
Road cycling tends to polarise public opinion and even though active travel initiatives and low-traffic neighbourhoods are more vital than ever before, the response from some quarters stinks of privilege. Instead of encouraging people to decrease their carbon footprints, the UK media openly opposes investment into safe cycling infrastructure. This helps to fuel the extreme reactions seen on social media.
A change of direction (thanks to two massive cunts)…
I started this page with the intention of highlighting just how shit it is to share the roads with arseholes who drive like bellends. As a result of being threatened with prosecution by officers from Operation Snap, South Wales Police and Gwent Police for swearing at cunts in cars who came extremely close to causing serious injury, or worse with their reckless driving, I reached out to Ruth Jones MP (Newport West). I also contacted the CPS who advised the police were full of shit. Had the police taken action against any of the drivers in the 100+ videos I submitted to Operation Snap, the roads may have been a safer place for vulnerable road users. It may have even sent a strong message to other road users about their conduct on the roads. Instead, police officers from Operation Snap tried to victim blame me for swearing in response to reckless driving. I asked Sergeant Snowflake Austin if a woman being attacked would face prosecution for swearing at her attacker. He advised she could be! No shit. This attitude was backed up by in a phone conversation with an Inspector from Gwent Police called Wendy. She told me that a female magistrate would be offended to hear the word 'cunt' in a courtroom and it would reflect badly on my character. As a result, the Police refused to take action against reckless drivers, even with strong video evidence. I have published these phone conversations.
The relaxed attitude of the police towards criminal activity has been a bit of a trend for me.
Since being threatened with public order offences by the police, I have been the victim of fraud and theft at the hands of a civil servant who claimed to love me whilst treating me like shit. I've also witnessed a fucking mongoloid of a CPN use his mobile phone whilst driving with me as a passenger. That mong, called Darren, also admitted to a history of violence towards others and somehow managed to compile an assessment on me which was almost entirely full of shit. This in itself can be deemed a criminal offence as it is falsifying a medical document.
However, the CMHT where Darren works backed their employee, instead of showing any concern at the serious allegations against him. Darren denied using his phone with me as a passenger. Had the CMHT let the police investigate the matter, a full investigation would have found I was telling the truth.
Their failure to take my complaint seriously given the allegations against a potentially dangerous fuckwit working with vulnerable people, means I'm having my say, and I will be publishing all the evidence to show that Darren Manuel is astoundingly dishonest and thick.
* – I appreciate some people have issues with the word 'cunt'. I don't like the obvious misogynistic association, but I think it is a perfectly acceptable noun to identify many people, and all cats 😉 The real shame is that some people are more offended by the word 'cunt' than they are about racism and other issues that matter a whole lot more than the effect of a word.
** – This is Darren. Darren is a band 6 CPN who lives in Cwmbran and had the misfortune of meeting me a couple of months ago. If you check out his Facebook page, you may notice that he has changed his display name to that of his favourite fictional character from Top Gun 😂 This may explain why the extremely thick idiot drives like a complete cunt…he probably thinks that he's flying an F-14 Tomcat through the streets of Newport and Cwmbran. It does not surprise me at all that Daz likes one of the most homoerotic movies of all time.
Darren told me that he believes all life is precious (we'll get back to that). In an attempt to connect with me and show off his recently learned 'knowledge' in mental health and psychology, Darren thought it would be a good idea to share some of his life with me. Darren told me he used to be a bodybuilder. Darren also told me that he used to get in a lot of fights in Blaina because 'there was nothing else to do'. Darren also told me of his struggles on his mental health degree course due to his dyslexia. Darren also told me he got his job through nepotism…or luck as he called it. I had to explain the difference between luck and nepotism to Darren. The particular analogy I used for Darren was extremely simple (just like Daz).
First off, bodybuilding is not a sport imho. It's all about vanity. It is also an activity with a well-documented association with anabolic steroid misuse. Whilst many sports and fitness activities can be associated with vanity to some degree, the ultimate motivation is usually competition, personal achievement or even improving overall fitness, general health and wellbeing. The primary goal for bodybuilders is their appearance, and that includes fake tan, white teeth and a smile. This requires many hours admiring oneself in front of a mirror. Weightlifting and many gym-related activities include a similar dedication to mirrors, but the goal is not the reflection. Darren told me about bodybuilding in an attempt to bond with me when I was talking to him about cycling. I probably would have had more respect for Darren if he told me he used to be into competitive masturbation 😁 My first thought was 'narcissist' and this has not changed as Darren likes to talk about himself…a lot! I asked Darren if he took steroids whilst bodybuilding, he said no. His abrupt response and other visual cues suggest he may have been dishonest. I've no idea why he boasted about bodybuilding as it's clear Darren no longer looks after himself. He is at least seven years younger than me and looks like he'd probably get out of breath taking a dump.
Justifying violence against others as a means to pass the time is not something that impressed me about Darren. I have lived in deprived areas affected by socio-economic factors and have never felt the need to physically hurt someone else for entertainment. I suspect there may be a correlation between the violence and the potential for steroid misuse.
Tbh, I was impressed that Darren had completed a degree course with dyslexia. I've always set myself high academic targets and generally met them, but words and numbers have never been a problem for me. I've known many people who struggle with something that I probably took for granted until my head injury, but I've always had empathy for them as the effects of such disabilities can be devastating, as well as lifelong. So, fair play Daz. That said Darren's understanding of conditioning and several other basic psychology techniques is shockingly shit!
Nepotism has been a bit of an issue for me. I grew up in care, had very little support and was born with a visual disability that was not corrected until I was 28. Despite my intelligence, excellent communication skills, high self-esteem, confidence, ambition, drive and ability to make anyone laugh, nepotism didn't give me a single opportunity. That said, I would do anything I can to give my children an opportunity to have a career. However, both my children are a lot smarter than Daz. They're also way more decent as human beings. Darren has not only been given an opportunity that few others get, but that opportunity has prevented someone better qualified and suited from working with vulnerable people in a clinical mental health role.
In another attempt to bond with me, Darren said "So, you've had a shit life mate. I get it". At this point Darren knew I grew up in care, but he equated this to him growing up in a broken home. Being raised by a single parent is not really the same as having a local authority as a legal guardian. Before going into care, I was born premature to decent enough parents. Both of whom smoked and drank regularly. One of whom had a serious mental health disorder that resulted in violence and the other parent left as the result of that violence. We were left with our Dad. Unfortunately for us, he was the parent with paranoid schizophrenia. Whilst Dad was a very caring, nurturing man who genuinely did his best raising 4 children on his own (then 3 when our sister went to live with our maternal nan), his mental health made him far from the great father that he believed he was until he died last year (2021). He may have forgotten his regular violent outbursts that led to him physically abusing all of us. Other disadvantages of our 'broken home' included neglect and malnourishment, as well as 2nd degree burns and speech therapy for myself. We had limited contact with our Mum, until my brothers and I witnessed Dad stab her and her partner several times (both survived). Then followed several years of various children's homes and foster care placements with one of my brothers (my eldest brother, Richard went to live with a paternal aunt). This also meant I had to change schools quite a few times where I was physically and verbally bullied until I was around 10 due to my visual disability. Surrey County Council (SCC), my then parents, allowed me my brother and myself to be fostered by a member of staff (a SCC employee) at a children's home in Horley. I was around 11 at the time and was unaware that the member of staff (Stephen Frederick Collins) was a predatory paedophile who had been abusing young boys in his care for a long time. He befriended groomed myself and my brother whilst in the children's home by allowing us to smoke and drink alcohol (what a guy), as well as inviting us to his home where we met his French wife, Florence. He fostered us with the sole intention of abusing us, while Florence wanted to nurture us. Florence became the closest thing I had to a mum and she was an amazing woman. Extremely intelligent, fluent in several languages, strong and very caring, but she had no idea that her husband is such a cunt. The grooming continued after we were fostered and both my brother and I were abused by Steve separately. Despite being younger than my brother, I was able to stop it before it probably would have had a long-term effect on me. Had I suffered the same abuse that Steve's many other victims endured, I would not be here today. I was then 'lucky' enough to live the next few years there with relative normality. I also stayed at the same secondary school where I had a good network of friends, played football to a high level, as well as Taekwondo and athletics. As an added bonus, I even had the privilege of foreign holidays thanks to Florence's British Airways concessions. Many other boys were not as 'lucky' as me and Stephen Frederick Collins escaped justice after being found not guilty at the Old Bailey. Whilst I've had a massively disadvantaged life with little opportunity to thrive, I never implied I've had a shit life and I've never used my childhood to justify being a cunt to others. I've done things few other people get to experience such as meet an orphaned elephant calf and her adoptive mum in the Kenyan bush. I can even do things few others can do and I have played several sports to high standards, all with a disability which has not only been visual, but also affected the vision in one eye. I have improved myself all through my life, smashed the fuck out of so many personal achievements, kept myself fit and done most of it with little support. I've dealt with every single trauma without a single session of therapy, and despite little contact with my Mum for 30 years, I never felt abandoned by her. She escaped a violent man who probably would have killed her had she taken us with her. I reconciled with my Mum before she died and told her she had nothing to apologise or make up for. After she died, I discovered that my brother Richard had taken advantage of Mum whilst she was terminally ill with lung cancer. I obtained a year of Mum's bank statements (I still have them), which revealed that Mum transferred over £3,300 to Richard in that time. She also got two personal loans totalling £10,500 in the months leading up to her death and her modest apartment in sheltered accommodation showed little sign of that money being spent on her comfort in her final days. Mum was a generous person and she was desperate to make up for all the lost years, and Richard was happy to manipulate the situation for his own gain. He then followed this by leaving Dad in over £10,000 debt for non-payment of rent. This is after years of maxing out credit cards, personal loans and forging signatures to obtain money and credit fraudulently. I'm confident in saying that Richard has amassed well over £100,000 of debt…and, as far as I know, he has got away without paying much of it back. Like Mum, Richard was generous on many occasions, but the problem was, the money was never really his to start with. I can still remember him buying me a record box for a birthday in my early 20s. But, there was a really thoughtful twist attached. I had to find the record box following extremely clever clues that took a lot of logic to work out (Richard is somewhat of a mathematical genius with an ability to process calculations extremely quickly and with high accuracy). I eventually found an amazing record box, which when opened revealed an original pressing of Pink Floyd's The Wall (1979, double gatefold vinyl). It was an amazing present and one that I will never forget. I no longer have the record as I gifted it to a drunk. I even played 'Comfortably Numb' from side 3 in a nightclub set once! That said, because of what Richard did to quite a few people, I am ashamed to be related to him. We have not spoken since I challenged him over Mum's finances and we used to get on really well. I still admire his maths skills and always thought my maths was average, but it was only average in comparison, as Richard has a gift less than 1% of the entire population of the world has! Plus, despite his dubious moral compass when it comes to finances, Richard is a great father himself. I have always been proud to be the 'baby' brother to my brothers and sister, even if one of them self-identifies as Amy Winehouse 😁 However, since 2012 I was no longer the youngest child of my parents. I found my younger brother by one year who was adopted at birth on Ancestry.com and I couldn't be more proud to be his 'bigger' brother too 😊 I'm hugely proud of what I've done with my life, especially since leaving care and living independently in my teens. I know that I have made a positive difference to a lot of people's lives and I have genuinely gone out of my way countless times to help others. I'm also extremely proud of my children (21 and 17 now) and they will continue to be amazing people for the rest of their lives. Darren's 'broken home' analogy is meaningless in this situation. A single parent, whether they are a dad or a mum is more than capable of giving their child the best possible start in life, and many do exactly that. I suspect Darren may have been over-nurtured by his single parent.
Darren was also visibly ill on our second (and final) 1-2-1 appointment. He made a point of telling me that he stayed off work in the morning as he felt so rough, but came in for his afternoon appointments. He also did not wear a facemask, or use sanitiser at any time (I did, as I always carry one with me). At some point during the appointment, Darren infected me with a cold. Had Darren been paying attention during our conversations, he would have been aware that I have studied infectious diseases (as well as genetics, cell biology, neurobiology, psychology, chemistry…) as part of my degree course. Darren may not have been aware, not that he would've given a shit, that I have a particular susceptibility to rhinovirus, the pathogen responsible for the common cold. It's the very reason I avoid contact with people who are ill because when I get a cold, I generally get a chest infection for 2-4 weeks. Today (17/05/2022) is 7 weeks to the day since Darren infected me whilst not wearing a mask and I still have a chest infection. My blood oxygen saturation levels were recorded as 88 at the doctors last week. The results of a sputum sample will hopefully reveal the pathogen responsible for the opportunistic infection that followed the initial infections.
On that same day 7 weeks ago, Darren also used his mobile phone driving his car with me as a passenger. First he used the phone in its mount whilst the car was moving which is bad enough and illegal, but then he took the phone off the mount and placed it to his ear to continue his conversation. I got my phone out and I recorded him discreetly. I pulled him up on it during our conversation and he says he doesn't usually do it. I think that is likely to be bollocks. At the time, he knew I used to cycle on the roads, and he knew I have a low tolerance of arseholes in vehicles. Darren also knew that I reserve the same kind of respect for idiots, and I'm not referring to any measure of a person's intelligence. Racists, climate change deniers, anti-vaxxers, people who don't wear facemasks in public during pandemics, conspiracy theorists as well as most members of the Conservative Party and their supporters are all idiots imo. Believe it or not, some racists are considered to be intelligent 'people', and I'm sure some of them could prove their intelligence using I.Q. testing…they're still fucking idiots imo though 👍
At the time Darren infected me, he was convinced I had major depression. I didn't, which has since been confirmed by a competent mental health professional. He was also aware that I was weeks away from being homeless. Not only was Darren wrong with his 'diagnosis' (something a CPN is not qualified to give and should not be looking for with leading questions), he knowingly went to his 1-2-1 sessions that afternoon with an infectious disease and the assumption he would be interacting with at least one person suffering from a mental health condition who was particularly vulnerable. Darren is supposed to be a healthcare professional with a duty of care to his patients.
Darren also claimed to have impressive memory skills. He did not take any notes during our two 1-2-1 meetings. Not that he had a pen or paper with him as he told me that he 'logs everything up here', whilst pointing towards where he thinks his brain is. I took my notes to ensure I covered everything I wanted to discuss. I have made a subject access request (SAR) to see his assessment and within a week****, I will be able to give my unprofessional opinion on his ability to remember information 😂 Darren may soon regret meeting someone with a memory capable of recalling amino acid sequencing chains for several proteins. That is something I can still do post-tbi, but since my head injury where I sustained 6 skull fractures, I have had serious problems remembering where the car is parked after just a few minutes in a supermarket, and unless I create reminders for events and lists on my phone, chances are I will forget to do things. More recently I have been unable to remember a name that I have heard at least a dozen times. I have to spell it visually in my mind before I can say it. Darren may also soon regret meeting someone who 'logs nearly everything up here', I'm currently pointing towards where the memory centres are located in the limbic system of my brain 😁
Darren suggested writing my 'thoughts and all my life on paper…everything that has happened and then burn it' as a way to get over any unresolved trauma. Darren should've realised that I do not need to process any life events. I also told him that. Darren should now realise that I already enjoy writing (with both hands) and have done since I was very young 😉
Darren may feel intellectually inferior to his 21-year-old stepson whom he described as a "21-year-old know it all". Note that he isn't describing a young child or a teen, both of whom can be precocious. He is describing an adult man. The child of his partner.
Darren believes all life is precious. Darren clearly does not think my life is precious enough for him to isolate when he was ill, or wear a mask or not use his phone when he was driving.
Darren has had a life full of opportunity, 'luck', privilege, poor life choices and still gets rewarded with a career. A career where he could genuinely make a difference to those less 'lucky' than he is.
Darren is a cunt.
Over the next few months, I will be doing everything I can to ensure Darren loses his job and faces criminal charges. I don't give a fuck if anyone considers this as being vindictive. Not only do I feel justified in my actions, but I'll be doing his past, present and future patients a favour and hopefully making the roads a bit safer in the process. The irony is that I submitted dozens of videos with clear evidence of reckless driving and no action was taken. This time I'll be bypassing 3325 Pearce and Operation Snap with the complaint, recorded phone conversations and video evidence. If Darren is lucky enough to avoid prison, he will have the opportunity to spend more time with his young son who was recently expelled from school for a day for 'lashing out'. Darren should also be able to appreciate that gene-environmental factors are very important in a child's development.
My interactions with Darren have helped motivate me to work on an epic bucket list that also includes sowing 1 million poppy seeds for Poppy 😊
*** – Rs finally nailed! Partly thanks to a complete mong of a dog called Rocky 😉 Although I'm a 'dog person', there are several breeds I dislike. This intolerance, or dog racism is extended to Shih Tzus and Dachshunds, amongst others. It's not Rocky's fault he was born a Shih Tzu, so I want to be clear that I have nothing against Rocky personally, unlike the discord between Marmite and myself. If anything, I feel sorry for Rocky as he has problems. For a start, he has the misfortune of living with a Dachshund! Also, like many Shih Tzus, and even myself, Rocky was born with a divergent strabismus…unlike me, both of Rocky's eyes are affected. I think Shih Tzus are odd looking dogs as it is, but poor Rocky really is one ugly son of a bitch 😁 In an attempt to discourage Rocky from getting too close to me, I discovered that he might be a bit of an idiot (purely in the retarded sense…I don't think Rocky is a racist) with an unhealthy obsession with fire. Considering how flammable Rocky is, I strongly advise his owner to keep his coat clipped as short as possible and make sure she doesn't lend him any matches 😬 You might be wondering how Rocky helped me roll my Rs? Well, it turned out that repeating his name was the final step for me connecting the alveolar trill and the R sound 👍 It may not sound much and I'm not able to roll all Rs, particularly in words which don't start with an R, but as far as I'm concerned this is another personal achievement smashed. I was hoping to be fluent in Welsh by now, but a shitty 2021 limited study time. I maintained my Duolingo streak for 400 days all through last year until I finished the course and spent up to 30 hours a week learning Welsh when recovering from a broken ankle, so motivation has not been an issue. Beth bynnag, pob lwc Rrrrrrocky! Croesi'r bysedd 🤞🔥🧯😉
**** – The amazing Aneurin Bevan University Health Board SAR compliance team have excelled themselves. I truly love the NHS ❤ Today is the 23/05/2022 and I have Darren's complete assessment. First off, a quick message to Darren for when he next checks this page (and thanks to a near-professional knowledge of SEO, website analytics and network data, I will know when that happens 🤣):
Take some fucking notes because you're clearly incapable of logging even the smallest amount of information. I'm amazed you got my name correct…seriously though, N₂O? I think you mean N2.
That's just the start 'mate'. You used quotation marks several times to attribute direct quotes to me for things I never said, or even alluded to. This is also known as lying, as well as falsifying information on a medical record, which is a criminal offence (like when you used your phone when you were driving). My SAR also included several assessments on me which were recorded by dedicated mental health professionals…guess which ones will be considered more credible and consistent in a court of law? 🤔 As it quickly became obvious that you're a bit crap at your job, almost every single detail of my interactions with you has also been recorded by the lovely and very helpful people at the Jobcentre over the last few months too 👌 These people have shown me nothing but empathy and support in recent months, which is what you should be doing with your patients.
You also stated that 'Nick feels disconnected from his children'. I have an amazing relationship with both of my children and I have demonstrated an understanding of their personalities that would satisfy psychological profiling, and your comment was not only another lie, I found it massively offensive. How fucking dare you?!? Knowing what I know about you now, I can safely say that you are a fucking useless partner, a shit dad and a fucking disgrace of a CPN. You are disconnected from honesty, reliability and intelligence.
Another example of you falsifying a medical record was stating 'Nick report[sic] possible PTSD from his childhood'. We did talk about PTSD during our first 1-2-1 as I remember telling you that I was sure I had it briefly after injuring my ankles in December 2021. I explained how I had trouble sleeping for about a week as the incident kept relaying in my mind. At the time, you replied, "That's PTSD mate". Thank you for the diagnosis (it's still not something someone in your position is able to give). Why the fuck you then chose to report otherwise in your 'assessment' remains to be seen. There are errors and falsehoods on every single page. The only few sentences that were anything close to consistent with reality and any other assessment were copied and pasted from elsewhere (potentially another patient's assessment 😬). I know these sentences didn't originate anywhere close to where you claimed to 'log everything', as it is the only part of your assessment which is grammatically correct! If you do have dyslexia, what the fuck stopped you from using a spelling/grammar check on your 'professional' 'assessment'? That was a rhetorical question, btw. During my 6 years studying a SCIENCE degree, not a teaching degree (for fuck's sake Darren, pay attention), I helped several other students, well friends (many of whom still check this site) with my proof-reading abilities, amongst other skills that require an appreciation of the attention to detail 🤭 Some of those friends struggled with aspects of literacy, and their essay notes alone absolutely piss on your attempt at producing a professional medical document. That document has been dated and only your digital signature has been electronically checked…it is 100% your 'work' and I bet you were proud of it when you finished. It was fucking shocking for the spelling and grammatical errors alone, this is before any consideration is given the actual content, of which a good 80% was complete bollocks. Whilst I'm on the subject of language and its correct application, in the 'History of Presenting Problem / Complaint' section, you stated that I 'informed' you my visual disorder left me feeling a word that I did not say to you, or anyone else from the CMHT. It's a word that does not appear in any other assessment. The word I did say appears on the other assessments. In order to help you understand the importance of words and their meanings, especially in a clinical setting, I will guarantee that you will be experiencing the effects of both of those words in the coming months. You're welcome 'mate', but a thesaurus (no, not a dinosaur) would have been easier 👍
Considering your position and responsibilities of working with vulnerable people, your assessment and comments you have made yourself reveal you to be a complete fucking idiot. Your duties involve reporting on patients' signs and symptoms, as well as dispensing prescribed medications, many of which can be fatal with just a slight error in dosage, advice or in the hands of vulnerable patients. TCAs are particularly lethal due to the toxic effects they have on heart conduction, blood pressure and the CNS in overdoses. ADMs such as amitriptyline require little in the way of potentiation, besides an anti-emetic in order to guarantee a slow, but heavily sedated and painless death. I wouldn't trust Darren with getting the time correct (he was late for both 1-2-1 appointments), let alone being responsible for any aspect of my health.
You did not deserve the opportunity you were given and I'm also going to make sure that the person who gave you your privileged position is investigated. It wasn't luck at all, it's negligence considering how shit you are at your job. Infecting a vulnerable patient whilst not wearing a mask, using your phone whilst driving with a vulnerable patient in your care and falsifying medical records, whether through incompetence or malice (it's important to note that Darren made his assessment after I spoke to him about using his phone) is grounds for dismissal with at least two criminal offences added to the mix. Besides failing me, and potentially every other patient he has come in contact with, Darren has also failed his colleagues at the CMHT he works at. Every single one of those colleagues that I have met have been nothing but 100% professional to me and I'm sure that goes for everyone they work with. That said, any frustrations I had when talking to the real professionals were directly related to you infecting me, using your phone whilst driving and your general performance during our 1-2-1s. I also realise in hindsight, that some of the bewildering questions I was asked by competent mental health professionals were based on your 'assessment'. I will be personally apologising to the dedicated and very empathetic psychiatrist who I told was professionally incompetent. She isn't, and I hope she is able to see the dangers of an idiot like you having so much responsibility. So well done on the 'luck' getting your job Darren, and also genuine congratulations for taking 'being a useless cunt' to unprecedented levels. That is without a doubt your finest achievement 👏🥳🎂 (go easy on the cake).
I will be adding to your 'assessment' over the next few weeks. If you don't like the bits you're capable of understanding, feel free to seek legal advice (you may find it helpful to take some notes). Looking slightly further ahead, seeking legal advice would be a good opportunity for you to demonstrate your understanding of the word 'insight' as in awareness of the problem 😉 I will also be extending my website hosting for a few years as this information will stay in the public domain.
Bet you regret thinking you could connect with me now, eh Sigmund? 😁
Also, just to be clear, there is zero financial motivation behind this. I would refuse to accept any money from the NHS, particularly the Welsh NHS, as they are also the victims here. The NHS has been a better parent to me than SCC. They fixed my eye ❤ Plus, I have had several operations, and nothing but the best support from them whenever I've needed it. Besides, they have wasted far too much money and time on your training and wages as it is. This is before considering my genuine, and near-lifelong love for the best universal healthcare system in the world. The NHS has some of the best surgeons and specialists in their fields. Plus, the NHS helps to pioneer medical research around the world…that includes vaccine R&D for new and emerging threats, as well as effective treatments for debilitating conditions. 99.9% of NHS staff from porters, cleaners, admin, therapists, GPs, mental health specialists to anyone with a (genuine) NHS identification badge are all dedicated professionals preserving the integrity of something I love. You are the 0.1% (trust me on the maths) remaining, and you're in the company of Harold Shipman 😬 The only outcomes I'm interested in are you losing your job and facing criminal charges…and I will be seeing this through. Ensuring you do not work for in healthcare again is an additional contribution to public health, as well as to NHS Wales that I am proud to make ❤
Darren's own admission to causing violence to others, plus my opinion that he might be a narcissist were also factors in my decision to make this information public. Admittedly, my knowledge on Narcissistic Prick Disorder (NPD) and subtypes is limited, but I do know privilege, being the centre of attention, an inflated ego as well as a lack of empathy towards others are traits. Darren exhibited all these traits and others during our interactions alone. His own admissions could easily be connected to other NPD traits. I'm sure Darren is 'smart' enough to 'know his place' around colleagues and 'respects' the clinical chain of command, although his friends and family may have noticed some traits in isolation, if they are particularly observant. Also, when I was speaking to Darren about using his mobile phone, his face instantly dropped from its 'usual' cheery self to that of a young child being told off. My tone of speech was normal, as it was throughout both assessments. I've only ever seen one adult do something like that…and that cockwomble managed to convince almost 63 million (mostly racist) Americans that he was responsible and trustworthy enough to run a country. Donald Trump is definitely a narcissist, who is well-known to be motivated by revenge and funnily enough, is a useless cunt too. The immediate concern is that I still 'reside' where my children live. On the plus side, that address does not appear on Darren's assessment. The location for both 1-2-1s was the CMHT building. I stated that was my preference during my first interaction with Darren as being outside can be uncomfortable for me due to light-sensitivity. On both 1-2-1s, I had to travel several kms to then wait for Darren in the reception which is lit using artificial lighting. This would not have been an issue for me prior to my head injury, but since then artificial lighting quickly results in discomfort for me. As soon as I move away, the pain immediately eases but then fatigue starts to hit and progressively gets worse. When Darren finally appeared on both occasions, he said that we were going out of the building for the appointment. Note, he didn't ask if I was ok with that and he already knew my preference to stay inside and the reasons for it. Not only is this an example of his lack of empathy, it also meant I had to rely on him getting me home. Thankfully, on both occasions Darren wasn't really listening (no shit?!? 😁) to my directions and he managed to drop me off vaguely close, but not quite close enough to see the house. Also, thanks to Darren's memory skills, I'm confident any attempt he makes to find me would result in him ending up on a cross-channel ferry 😂 Plus, despite my age, I'm more than capable of taking care of myself. For added protection, I have invested in a cat launcher (a cat-catapult); custom built for a cat the exact same size and mass of Marmite 😁 Joking aside, a band 6 CPN is likely to have the necessary authentication to find out a patient's home address. It is a position that usually commands a great deal of responsibility and trust. However, I am moving my modest new home somewhere else in order to have a working holiday until I see this through. Putting my retirement plans on hold for the duration will also give me the opportunity to reconnect with my children 🤣 I'm not interested in the outcome of the trial, as I'm sure a jury of his peers will be able to see him for what he is. Darren resigning will not stop an ABUHB/GMC investigation and the likely disciplinary action that follows. The moment he is charged by the police, is the moment I can tick the useless cunt off my bucket list 👍
SCC are also on the bucket list. Not for any abuse or trauma I suffered as a child. I processed the abuse by the time I was 20. It wasn't easy as I felt ashamed and didn't talk about it with friends, but when I accepted I was the victim, I was over it. I didn't blame my parents for anything either. My Dad was a great father, but his mental health impaired his ability to be a parent. My Mum was a victim and endured many years racked with guilt. My experiences as a child haven't held me back or stopped me smashing the fuck out of so many life goals. My visual disability did though. My recently obtained medical files reveal that specialists in the 80s advised that mine should have been fixed before adulthood. They also revealed the probable existence of a congenital defect in my left knee, as well as the need for it to be fixed. My son has the same, and like me, has suffered dislocations to one knee. Unlike me, his will be fixed when he finishes growing. I don't mind admitting to not being over losing cycling just yet, and the knee issues that took that away from me could have been avoided with corrective surgery. The files also confirm my susceptibility to respiratory infections from infancy…these will be particularly helpful in Darren losing his job. SCC are currently processing my SAR for my social care files. I'm finally going to get the chance to ask them why the fuck they didn't think to try to improve the life of a seriously disadvantaged child when they had the chance. I wasn't aware my eye disorder was a disability, let alone fixable by a very simple operation. I was unable to learn to drive until my eye was corrected. This further disadvantaged me and limited job options. An associated visual disorder, amblyopia stopped me from getting into the army at 19. Not that I had a desire to murder people, or show my support for the flag, government or monarchy. I wanted to be a combat medical technician, and if I was 'lucky' enough to avoid a bullet, I would have had an opportunity to have a career in trauma healthcare. The motivation behind my SCC SAR is 100% financial. My former parents will have the chance to provide opportunities for my children that I have been unable to provide for them. Kinda like how inheritance works.
I also realise this increases my chances of meeting Steve in a court of law (again). As he was one of my legal guardians at the time I should have had two operations. This means he might be asked some further questions about the 'care' he provided to me. I am looking forward to that…I mean, really, really looking forward to that. His own QC commented on my intelligence at the Old Bailey, as she wasn't able to get me to change my words…even though a good 80% of my concentration was aimed at the stenographer's legs. In my defence, I was 18 at the time and they were fucking amazing legs! 😁 Despite the fact that Steve groomed me, I've never been scared of the cunt. Plus, I can still remember the arsehole slapping me extremely hard on my head when I was suspended from school (for bullying a bully on a bus). It was a cheap shot from an overweight 6′ 2" (I refuse to use metric for cunts) adult 'man' against a 14 year old. I was walking slightly in front of him at the time, and the impact nearly knocked me over. This happened on school property too…but the fucking piece of shit waited until we were out of view of the school's reception. Besides being an epic cunt, Steve is also a coward.
Steve will soon be aware of my memory skills when I contact Surrey Police over his possible involvement in the Shirley Oaks child abuse scandal. I can remember Steve saying that he had worked there to cover shifts, and that he knew some members of staff there. I realise this is only circumstantial evidence, but there is a possibility that Steve could also be involved in another police investigation into historical abuse. I base this on observing his reaction to meeting a very famous (at the time) radio presenter/track suit enthusiast/paedophile, for apparently the first time. There was a nod of recognition between the two. That 'celebrity' was well-known to frequent hospitals, and other institutions (such as children's homes in South East England) in order to abuse vulnerable patients and children. I witnessed Steve's reaction at Broadmoor Hospital when I was about 13 years old. I was there, with my brother to visit Dad. Steve was there as he was our legal guardian. I visited Broadmoor Hospital quite a few times in total, and I saw that 'celebrity' on 3 occasions. On 2 of those occasions, I told him to "fuck off" 😁 Steve may also be impressed that I can remember their car registration details. Bear in mind, I lived with 'Florence and the paedo-machine' for 4 years from the age of 12 and I have never had an interest in cars. I have however, always been very observant.
So, yeah…it will be nice catching up with the folks, oh and Darren in the coming months 😁
It was good to catch up with Darren at #6 Gold Tops CMHT last Wednesday (22/06/22). I say 'catch up', but he walked past me as fast as he could after sheepishly saying 'hiiii' (then failed to keep eye contact for the rest of our little 'catch up').  I didn't say hello to Darren, but I did ask him if he still had a job and I got a sheepish 'yeaaah' as he breezed past. I was at Gold Tops to speak to Darren's superiors about my complaint. It transpires that Darren has denied using his phone with me as a passenger. This confirms a number of suspicions I had on Darren. Primarily, it confirms that he is indeed an idiot.
Darren should now be aware that I have made official complaints to the ABUHB, as well as to the GMC. Considering the claims made and the evidence I have to back them up, I expect the matter to be referred to the police in due course. I have also contacted the local press as I believe this is in the public interest. There is also, an undisclosed part of my interaction which is paramount to my complaint. Darren was aware of it when I first met him. His colleagues were aware of it. The relevant complaints officers for the ABUHB and GMC are aware of it. Now my children are aware of it, so another little message for Darren:
I still think you're a cunt, and I don't think all life is precious. My life is, and it's worth at least 10 of yours (I'm not referring to your waistline either beefcake) 😁
Update (20/09/2022):
Despite submitting my official complaint against Darren in June, I am yet to hear a response to my allegations. I believe Darren committed at least 3 criminal offences in the short time I witnessed him 'working'. I raised these issues through the correct channels and spoke at great length to Rachel (the CMHT practice manager), to make her aware of Darren's behaviour. I also took Darren's assessment apart line by line to demonstrate just how inaccurate it was, as well as highlighting Darren's shocking levels of literacy. I advised the CMHT of Darren's self-confessed history of violence towards others, as well as the 'luck' that rewarded the useless cunt with a career.
This isn't over Darren.
Update (21/09/2022):
Hello Darren. As you probably know I visited Gold Tops today. Despite your line manager's insistence that my complaints against you have been taken seriously, I've re-escalated my complaint to the 'putting it right' team. Your line manager commented that there's no reason for you to be looking at my website now. I told her I don't give a shit, as I want you to read my comments to you, plus it shows I'm living rent-free in your very empty head. I explained how I can visualise each visit you make thanks to a vast array of metrics at my disposal. This makes it possible for me to see every click, tap, swipe and whatever else you do when you check my site…such as guessing the passwords for protected pages.
I also explained to Rachel and Dr. Afzal why I took particular offence to you denying that you had used your phone when driving. By denying it happened, you called me a liar. I have been honest about my interactions with you, plus my social care files show my memory of life-events is far more accurate than the pile-of-shit assessment you were paid to produce. I can still recall our conversations in great detail; where we were, what was said, how you behaved and responded. I even clocked you looking at your own reflection in your rear-view mirror. You really should be using that mirror to check for objects and/or hazards to the rear of your car. You did at least check your right-side mirror before you pulled out. Your phone was still on the mount and you were operating it prior to pulling out and afterwards. Can you remember what happened next Darren? I can, and the video I took at the time will make for interesting viewing along with information held by your phone carrier.
I look forward to discussing our interactions in more detail in the coming days.
Update (22/09/2022):
Hello again Daz. Following my conversation with Rachel yesterday, I decided to chase up my complaint with the putting it right team. They advised via email (somehow managing to use a different version of the Christian name I use) that their investigation has been completed and that I should receive a CEO Response Letter within the next 2 weeks. I found this a little surprising since no one has contacted me about any of the allegations I made against you. No one has even seen the video I took when you used your mobile phone when driving with me as a passenger. I realise that you have limited abilities with comprehension, so allow me to explain what this means. You have somehow managed to escape any punishment for being a complete cunt. In the process of being a complete cunt, you broke the law several times. I was looking forward to giving a witness statement to the police about the matter, but for some reason, you have been protected from possible prosecution by your employers. Part of the reason I was looking forward to doing that included me wanting to show-off a few memory skills. Judging by your assessment, you have forgotten most of what we talked about at my first appointment at Gold Tops and our two 1-2-1 appointments. I can remember most of the conversations word-for-word. I have no fucking idea why Rachel and other healthcare professionals have decided to take your word for things given your inability to spell most words, but I sincerely hope that they monitor your performance given the potential of you failing every single patient you work with. I also hope they try to improve your understanding of psychological conditioning and English. The impression I got from Gold Tops was that I was being vindictive towards you. I wasn't. I was completely justified in notifying your superiors of the things you said and did. They also assumed I already knew you as I knew so much about you. Everything I told them was stuff you told me yourself. However, I did use a few skills to find out that your partner also thinks that you drive like a prick, and she posted evidence of it on Facebook. She also posted several memes taking the piss out of your inability to remember things. I found those particularly funny, so took screenshots of them all before you changed your account settings. I did all that without a Facebook account 😁 I honestly expected the complaint to be referred to Gwent Police as they have the ability to compel your network carrier to release details about that call. They will still have a record of that call: how long it lasted and the fact that your location was changing during the call. They could also check other allegations I made, such as you being ill on the day of our second 1-2-1 and your 'assessment'.
Fuck knows how you managed to convince anyone that you are responsible, or trustworthy. The only thing you convinced me to believe is that you're an idiot. A potentially dangerous idiot. I realise you don't understand irony, but the bollocks you posted on Facebook about 'loving your fear' is not at all convincing. You should be fearing your failures, as they're likely to result in tragedy for others.
Continue reading here.
Feel free to check out all the files that support my opinion that Darren Manuel is indeed useless, as well as a lying cunt. I'm pretty confident that I could write a 20,000-word thesis on the subject! 👌 The files include recorded phone conversations with Darren, his line manager Rachel Mackie, and support staff at Gold Tops. Screenshots from Facebook will show that Darren's partner, (Paula) also thinks that Darren not only drives like a cunt, but has memory issues too. Darren's 'assessment' on me highlights his monumental level of retardation, as well as his ability to bullshit his way through his work day. Paula posted the results of an online empathy test she completed. Paula felt the results validated her levels of empathy. However, looking at the comments she left aimed at the people who broke into her car, empathy may not be her strongest point. Especially when considering that Paula works in mental health, and is likely to be dealing with people who are in the grips of addictions and turmoil, and who may feel that they have no other choice than to break the law in order to feed their habits. Paula also posted a cunty message on Facebook directed at me. This was posted around the time I complained to Darren's bosses at Gold Tops. In it, she implied that I 'will reap what I sow'. Funny how she doesn't have the same thoughts towards her lying prick of a partner. I'd like to remind Paula that her idiot of a sperm donor not only broke the law several times during our 1-2-1 appointments, he also implied your son (his stepson) is a bit of twat too. That may well be true, but at least the lad didn't inherit Daz's retarded genes.